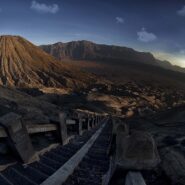 Mount Batok
Sometimes beauty is overshadowed by popularity!

Mount Bromo (2,392m) in Indonesia is popular because it is an active volcano, constantly throwing hot gases. In it's distant horizon lies the larger Mount Sumeru (3,676m), which is also active.

Mount Batok (2,470m), though lying adjacent to Mount Bromo, is overshadowed by the latter. With a perfect triangular mountain top, rising from a sea of volcanic ash surrounding the Mount Bromo caldera, Mount Batok also has it's own beauty. Though it looks like an active volcano, it is dormant, having erupted a few centuries back. It's harsh and patchy slopes are the reminiscence of past volcanic activity.