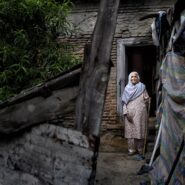 Two sides of a coin
Two sides of a coin – such is the tale of independence. As India and Pakistan celebrate their freedom in August, one is forced to contemplate – "Freedom from whom?". The British rule ended in 1947 and is indeed a reason to celebrate but for the entire Western front, Punjab, Rajasthan and Kashmir, it was a time when hate begot hate. Generations of neighbors who grew up playing together, picked arms against each other.

In the dilapidated rooms along the periphery of Rambagh Samadhis (Srinagar, India) – the Cenotaph of Gulab Singh (1772 – 1857 AD), since 1947 a few Sikhs have been spending their life, forgotten by the society, a stark reminder to the negative impact of independence.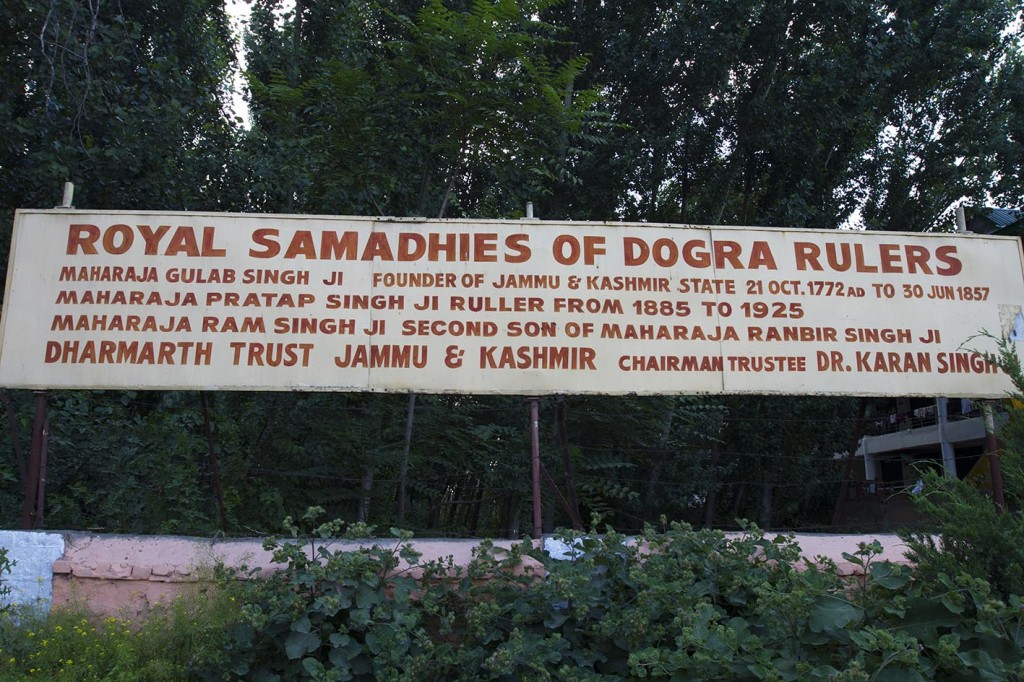 Photo : Rambagh Samadhis, Srinagar.

Gulab Singh (1792 – 1857 AD), the Dogra chief from Jammu, served Maharajah Ranjit Singh (1780 – 1839 AD), who was driven by the zeal to form a kingdom that would for the first time stop the Central Asians / Afghans from invading the Indian sub-continent. After the demise of Maharajah Ranjit Singh, Gulab Singh in 1845 AD betrayed the Sikh kingdom by partnering with British, blocking access of Sikh army to military supplies required in the battle to stop the British advance into Punjab. This was an act done in return for the right to purchase an independent rule of Kashmir, for a sum of Rs. 75L. Gulab Singh paid the amount to British from the treasury of the Sikh kingdom at Lahore.

I get a feeling that the Sikhs now staying in the periphery of Gulab Singh's cenotaph are subtly demanding an answer for his betrayal of the Sikh kingdom. However in reality they are just the victims of 1947 independence.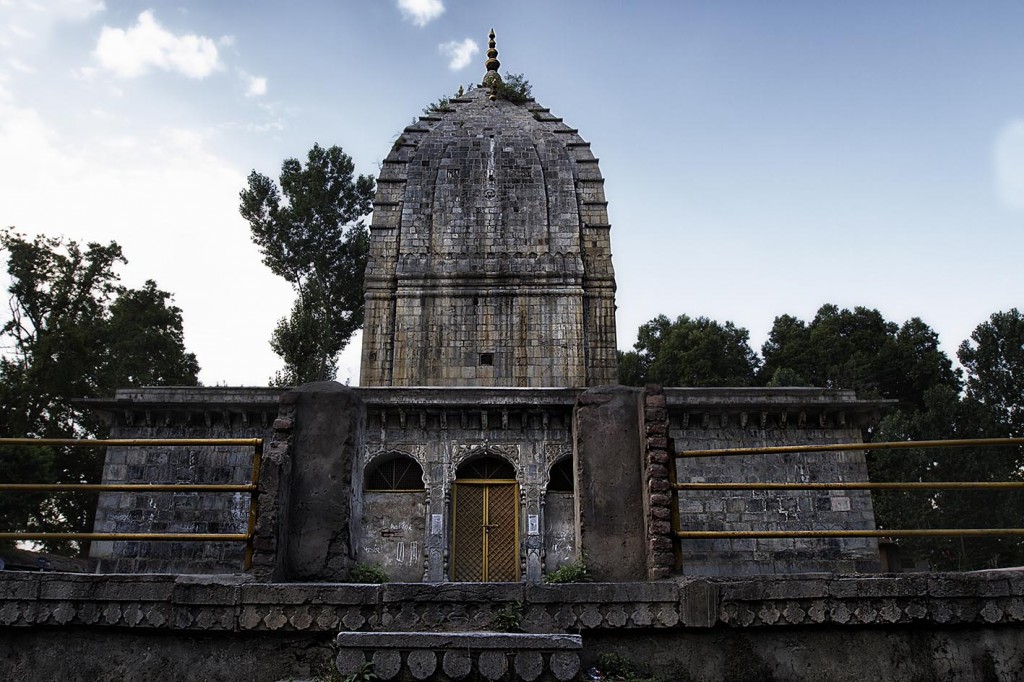 Photo : Cenotaph of Gulab Singh (1772 – 1857 AD).

Here I met two siblings, Ishar Singh (89 years) and Uttam Kaur (86 years). They are the only surviving children of Sunder Singh (expired), cousin of the noted Sikh reformer, Akali Kaur Singh (1886 – 1953 AD). This family belonged to Village Paddhar of Chakar, now in Pakistan controlled Kashmir. Their ancestor, Triloknath, a Hindu Brahmin, in 1675 AD came with a delegation from Kashmir to meet Guru Tegh Bahadur (9th Sikh Guru) in Punjab, seeking protection from prosecution by Mughals.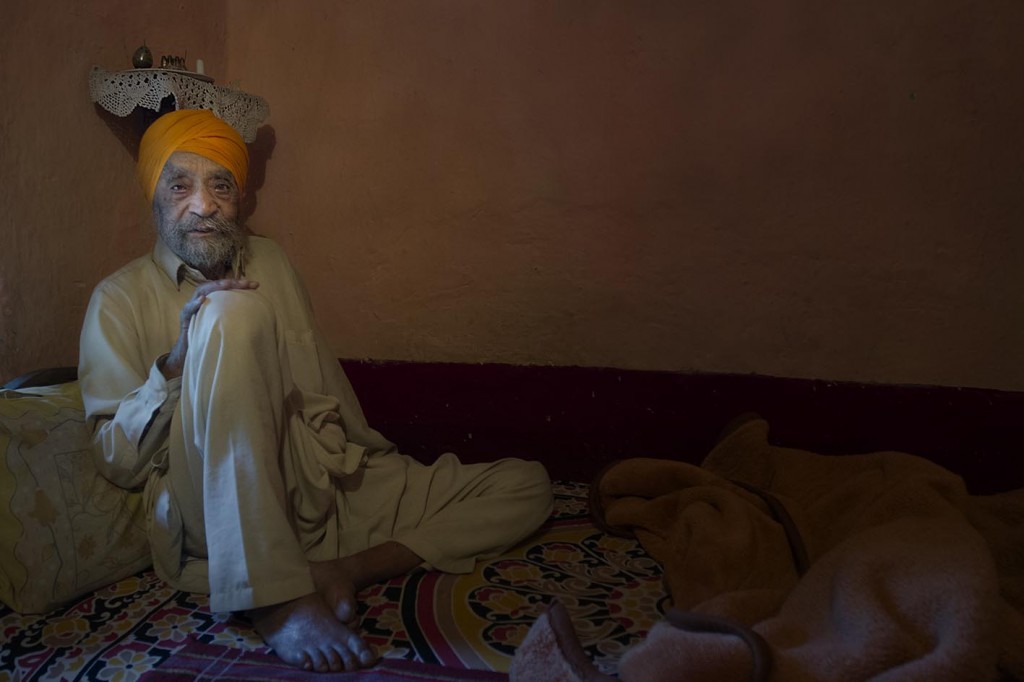 Photo : Ishar Singh (89 years).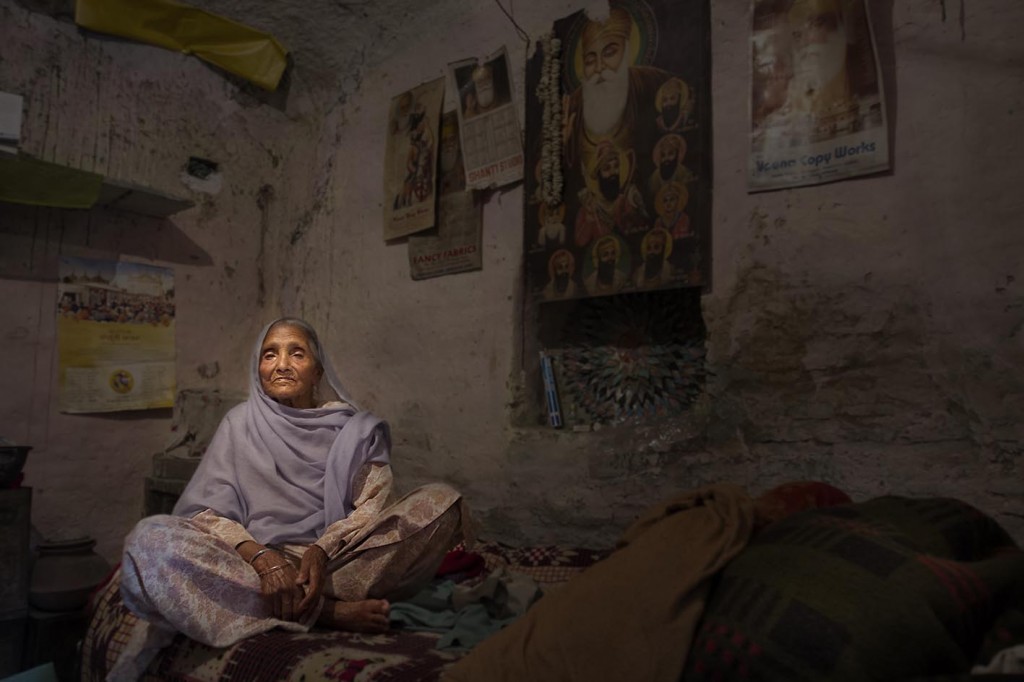 Photo : Uttam Kaur (86 years).

Ishar Singh, now a frail man, suffering from partial dementia, is a man with smile, though lost in his own world. The entrance to his room, around the cenotaph, had a small plate with his name partly visible. From the look on his face it appeared we were probably the only ones to have ever stepped into his room with a curiosity to dig his past.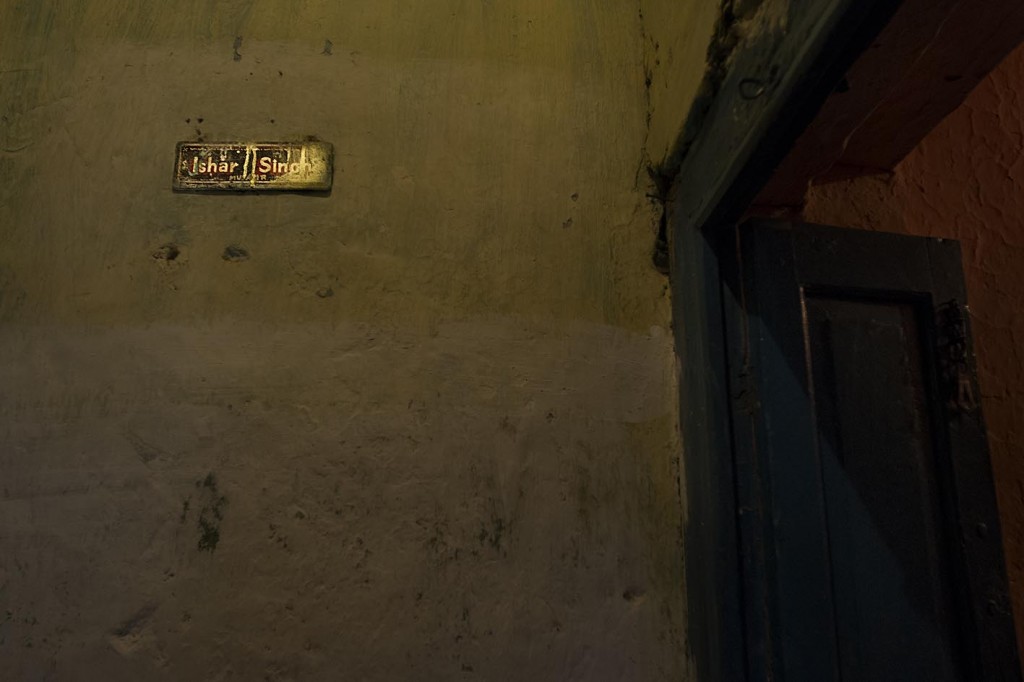 Photo : The name plate outside Ishar Singh's room.

As per Indian Independence Act of 1947, the Maharajahs of independent princely states had the right to choose merger with India / Pakistan or remain independent. With independence in Aug 1947, communal riots broke out in Punjab. Maharajah Hari Singh of Kashmir chose to delay his decision and it gave an opportunity to Kabalees (Tribesmen) to attack Kashmir with an objective to merge it with Pakistan.

Ishar Singh recalls the slogan of Kabalees (Tribesmen) who attacked his village at Chakar.
Hindu ka Zar
Sikh ka Sar
हिंदू का ज़र
सिख का सर

Translated it means, plunder the wealth of Hindus and behead the Sikhs.

In this attack, Ishar Singh witnessed three of his brothers and one sister being massacred by the Kabalees (Tribesmen). One brother and two sisters (Uttam Kaur being one of them, finally moved to India in 1952) were left back in Pakistani Kashmir.

Today, under dementia, so frail is Ishar Singh that he could not recall the name of his brother and sister left back in Pakistani Kashmir. On being requested to recall, all he could recollect was that his brother remained in communication through letters till 1951. The last letter bid Ishar Singh the final farewell. What happened to his brother thereafter is anyone's guess.

Having escaped the attack by Kabalees (Tribesmen), Ishar Singh moved to Srinagar (India) in 1947 and stayed across refugee camps, finally finding his way to the current residence around the cenotaph of Gulab Singh.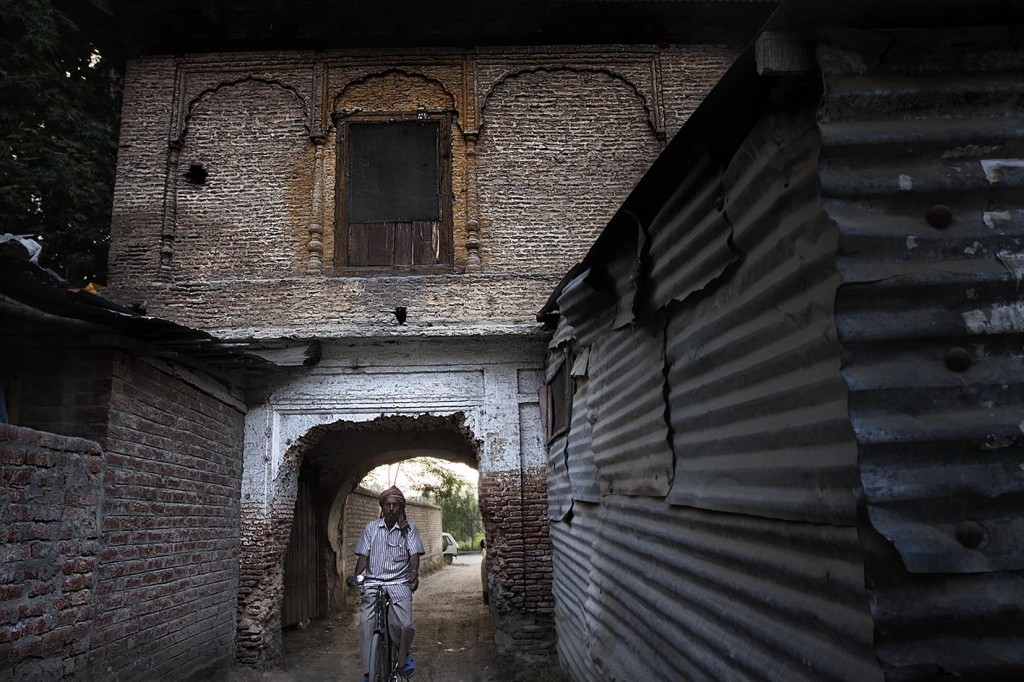 Photo : Residences around Cenotaph of Gulab Singh.

Next to Ishar Singh's room lives Uttam Kaur, his only surviving sister from the holocaust of partition. We entered the room to find an aged lady, scarred with passage of time. She was just 19 years, when Kabalees (Tribesmen) attacked Chakkar village. Uttam Kaur chooses to be silent about the 5 years of her life that she was left behind in the newly created Pakistan. Parted from her family, she finally found her way to India. In 1952 she was one of the few girls from Pakistani refugee camp, who were exchanged for Muslim girls from the camps in India.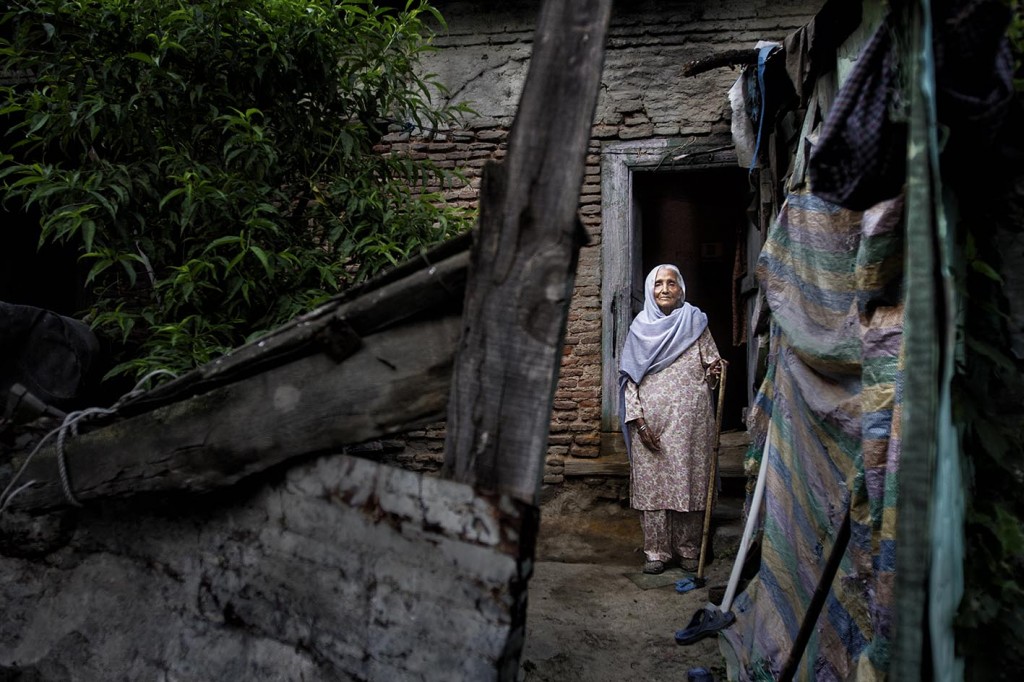 Photo : Uttam Kaur's dilapidated residence.

Under the refugee exchange program, Uttam Kaur crossed the border from Lahore and stayed in Amritsar for 7 days, thereafter reaching Jammu. Here she was finally united with her brother, Ishar Singh. In 1953, she married Sohan Singh at Srinagar and has since been staying next to her brother's room, in the periphery of the Cenotaph of Raja Gulab Singh.

Filled with sorrow are such tales from both sides of the border. Both nations celebrate partition with all pomp and show, with most having forgotten the other side of the coin – the last few surviving victims of the partition, an aging generation that witnessed the pain. Soon there will be none left to share the stories and finally the two nations can then celebrate the real joy of independence!