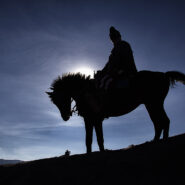 Tengger Horsemen
The vastness of milky way and ambiguity of space was etherized by the chillness in air. In the distance I could hear the clatter of hoofs. It was 4 AM and time to start walking towards Bromo, an active volcano.
Being at the caldera in the early hours gave me an advantage to capture the Tengger people with their horses in the harsh barren environment of the volcanic ash.
Click first photo below and scroll to view entire series in slide show.