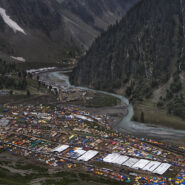 Multitude of forms, yet no form
Multitude of forms, yet no form.
This simple philosophy holds the key to all inclusiveness. It has the power to make one focus on living a value based lifestyle, moving away from the un-thoughtful practice of anchoring on physical phenomena as the gateway to self-realization.
It was in the year 1505 AD, Nanak (first Sikh Guru) visited Jagannath Temple in Orissa state of India. The priest barred his entry as he was accompanied by Bhai Mardana, a Muslim musician friend.
Later in the evening, all by himself, Nanak visited the temple at the time of Aarti, a ritual prayer making offerings to the idol. Nanak just stood in silence. In his silence was the message that he refused to be a part of this myopic ritual.
Later that evening he sang a composition in Raag Dhanashree, which is now written on page 663 of Adi Granth (spiritual scripture of the Sikhs). In it he reminded mankind that the Almighty has no form, yet has all forms and therefore can't be captured in the imagination of idols and symbols. In recognizing His presence in every firmament of His reflected creation, lies the true essence of Aarti.
In the message of this all inclusive philosophy one would start respecting every aspect of creation. Creation then becomes a mere reflection of the formless Almighty.
But man has a big ego and fails to accept the simplicity of this beautiful message. Time and again, he continues to anchor on symbols and forms to direct his prayers.
Being a photographer, my eyes are always on the lookout for uniqueness in the surrounding. During a drive from Kargil to Zanskar, as we were appreciating the beauty of the mountains, there were moments when we spotted patterns and symbols that could easily create the next mad rush to build religious site of pilgrimages!
In the summer heat, as snow was melting on the mountain landscapes of Suru valley, on two places it had created the symbol "OM". Clearly this was just a transitionary phenomenon, captured by our awareness and imagination, else for the novice, it would just be seen as snow on the mountain.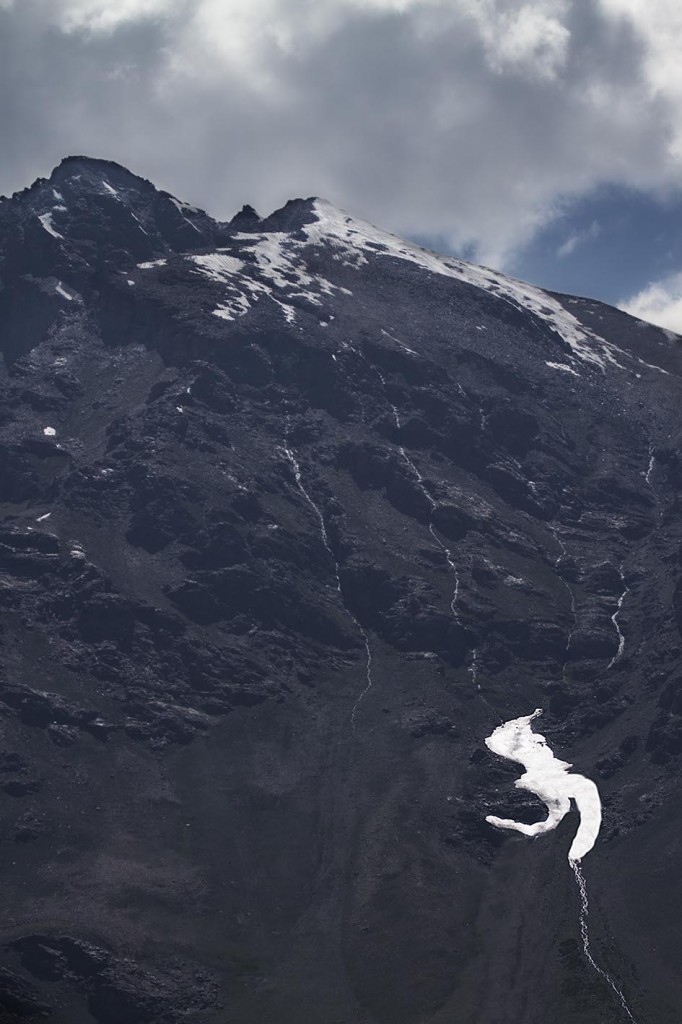 Photo : "Om" formed by snow.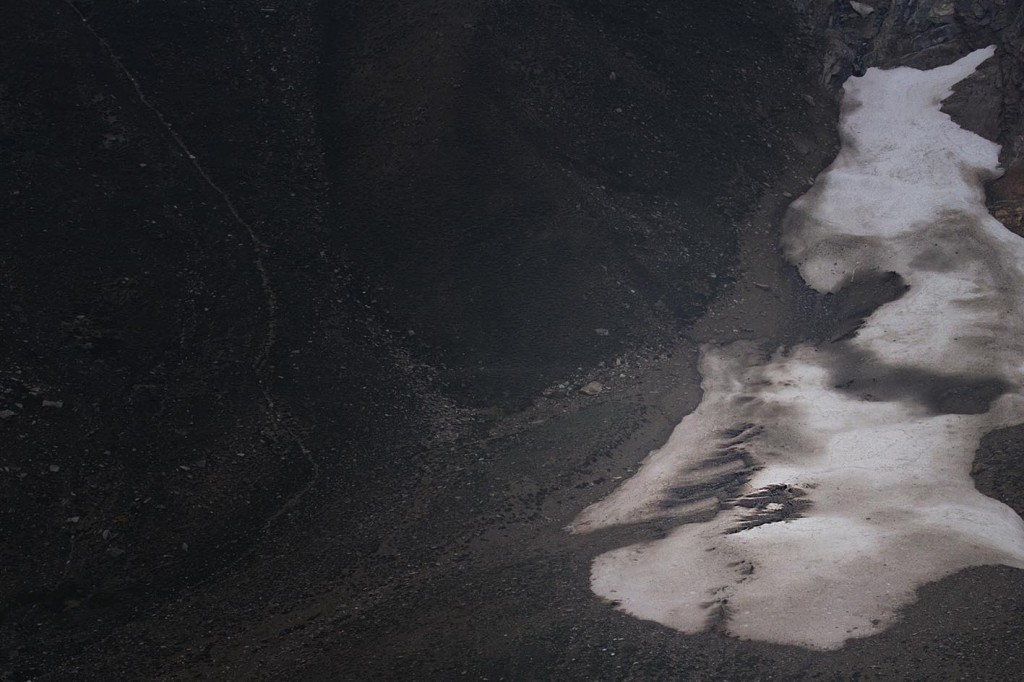 Photo : "Om" formed by melted snow. See bottom right of photo.

Close to Zanskar, the pattern on the snow capped peak had created a face, which could be easily imagined as a smiling God.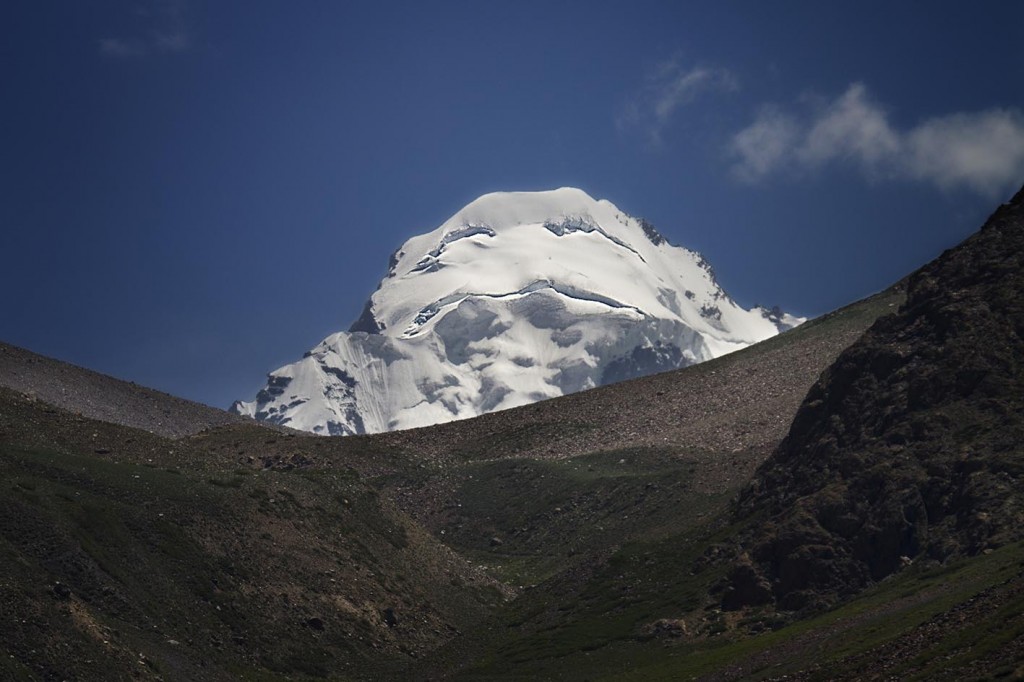 Photo : Smiling face formation on snow.
Such physical phenomena exist in every nook and corner of the world, just waiting for someone's imagination to convert it into the next place of worship!
Elsewhere, as I stood beside the road on way to Zoji La pass, overlooking the Baltal valley (Kashmir), it saddened to see the destruction being caused to the fine balance of nature. Baltal is a night stop where thousands of religious seekers trek every year on way to Amarnath cave. At the cave, freezing water droplets falling from the roof, create an ice Stalagmite, which Seekers perceive as Shiva Linga (Lord Shiva's penis) and throng there to worship it.
This cave is believed to have been discovered in the 15th century by a shepherd and today it's importance has grown so much that every year in the 45 day period during July-August, when the cave is accessible, it receives over 400,000 pilgrims. Affluence has also bought about new generation of business opportunity seekers. Every 5-10 minutes, a private helicopter passes through the valley of Baltal, ferrying pilgrims to Amarnath caves.
A birds eye view of thousands of campers tented in Baltal valley and the ferrying helicopters, gives the sense of danger being imposed on this fragile eco-system.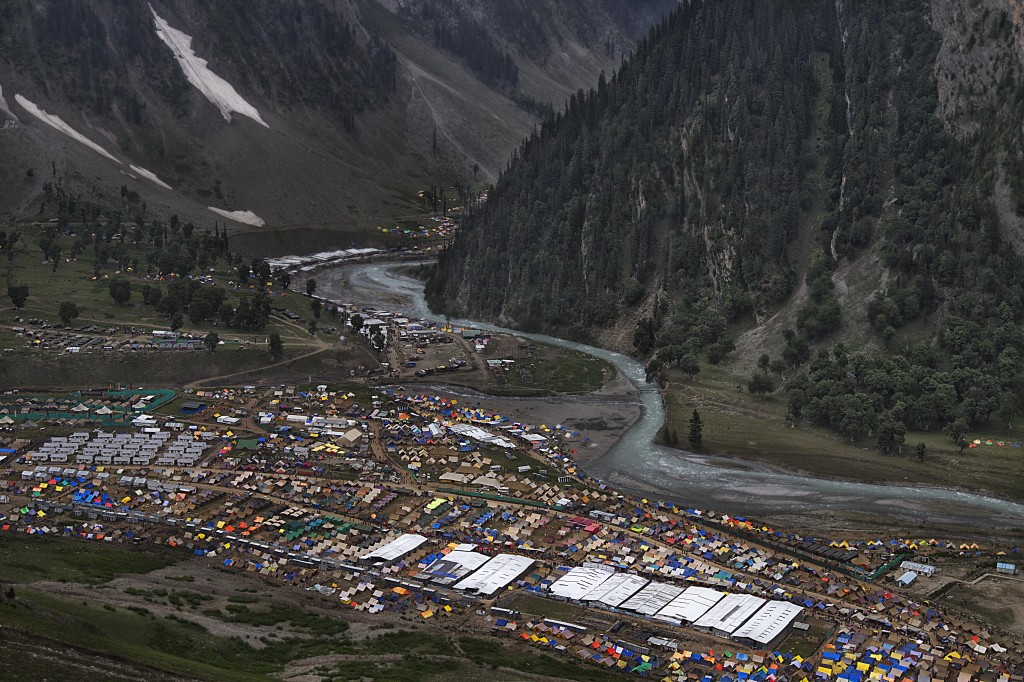 Photo : Thousands of pilgrims in temporary camps at Baltal.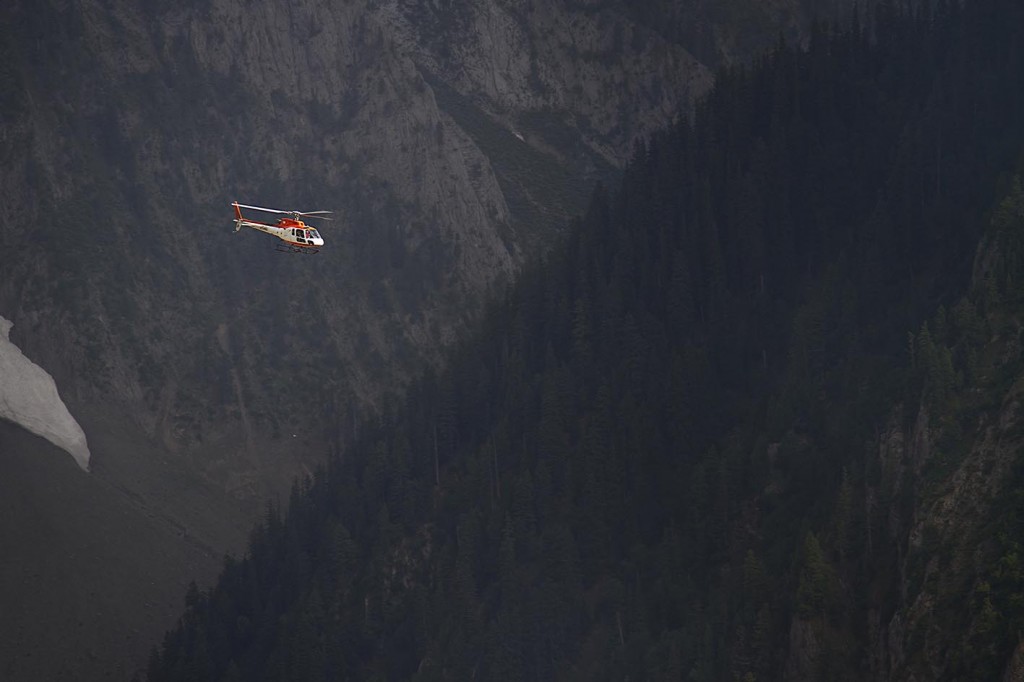 Photo : At Baltal, helicopters ferrying pilgrims to Amarnath caves.
Saddened, I was reminded of Nanak's verses that he sang at Jagannath Puri, which is given at the end of this page.
In ending, let me leave my observations about the followers of Nanak, my own Sikh community, and how they have started entrenching themselves into the same trap of anchoring in physical phenomena as justification to create more and more places of worship.
I have always wondered why places like Pathar Sahib (a place in Ladakh, where lies a rock, believed to have Nanak's back impression), Panja Sahib (a place in Pakistan, where lies a rock, believed to have Nanak's hand impression) or Hemkunt Sahib (a place where the 10th Nanak is believed to have worshipped in his previous life as it befits an imaginative poetic description from a writing penned by the Guru) need physical symbols, which are mere natural phenomena, to justify their existence.
Nanak's message has to be felt and understood. It needs no rocks or mountains to justify its essence. When will we realize the simplicity of his writings?

Verse in Gurmukhi with transliteration & translation (Page 663 of Adi Granth)