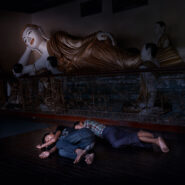 Mirroring
Two men, sleeping in front of the sleeping Buddha.
Two merchants, sitting in front of the sitting Buddha.
Two monks, praying in front of the praying Buddha.
Unknowingly, in thought and action, we end up emulating our role models. At the Shwedagon Pagoda in Yangon (Myanmar), I turned my camera to capture people who were unknowingly posed similar to the statues of their master, the Buddha.