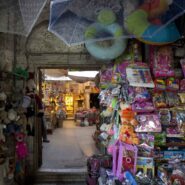 LEGACY REDUCED TO A TOY
During a visit to the 'Gurdwara Gali' in Abbottabad (Pakistan), at a toy shop, peering at the decrepit Gurmukhi panel above the gate, I could read 'Gurdwara Shri Guru Singh Sabha'.
In that moment of intense gaze, I imagined my maternal grandparents visiting this site for their spiritual fulfilment. Since 1947, entire generations have remained deprived of free access to our ancestral lands! History has indeed been harsh, reducing a glorious legacy into a toy that today toggles between the whims and fancies of people, within and without, who have the least understanding of our collective plurality!
Photographed in Oct 2014, during the research for the book "LOST HERITAGE The Sikh Legacy in Pakistan"