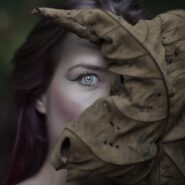 I am a liar
During a photo shoot, where my focus was to bring out the intensity of her watchful eyes, I also had an opportunity to delve deeper into philosophy of Creation and Creators act of observing Himself through mortals eyes.
Ponder over the statement "I am a liar" – If I am really a liar, them I am telling the truth, so how can I be a liar? If am telling the truth that I am a liar, then I am not lying, so how can I be a liar? Staying within the rules of grammar, it is impossible to get out of the circular tangle because the sentence that "I am a Liar" creates an inescapable loop. 
M.C. Escher (1892-1972), a famous artist is known for his impossible constructions. "Drawing Hands" is a lithograph he printed in 1948. It depicts a sheet of paper out of which two hands arise on a flat surface, facing each other in the paradoxical act of drawing each other into existence. It creates a tangle in trying to decipher, who is drawing whom! The tangle can only be resolved by jumping out of the loop. Only with an outsiders view, one can realize that it is the hand of Escher that is drawing the two hands. The two hands drawing each other is just a paradox in creation.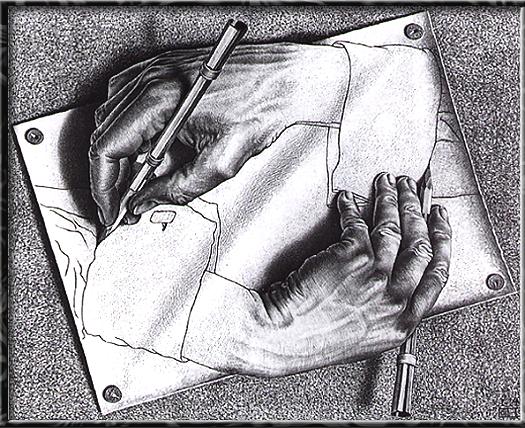 Escher's drawing of two hands.

A friend who meets for coffee, in the excitement keeps talking, only becoming aware after an hour, saying "Sorry, I have been talking about myself for the last hour. We should talk about you. So tell me what do you think about me?" 
Here again it is a tangle, though that of the ego. Only you as another person can help break from the conversation by choosing not to talk about the friend.
Tangles giving self reference are common in everyday life. We cannot solve our problems from the state of understanding from which they were created. Solutions require a change of view.
The spiritual philosophy of Sikhs, Sufis and Advait Hinduism have a common thread  that Consciousness is the only pervading reality of creation. The world existence is false, being like a wave on the surface of ocean, existing only for a moment and then subsiding into the stillness of water. The sub-stratum of creation is Consciousness, which is the only reality, with its creative appearance being totally false. Most of us encounter a big challenge in comprehending this simple philosophy because it means our existence, which appears to be real, is to be accepted as unreal! Here again appears the tangle. To break away it requires to view oneself as being different from the existing body. It is through this changed view that one realizes the existence to be a mere disturbance in the sub-stratum of the Consciousness.
These spiritual traditions proclaim Consciousness created us as beings, in order to experience Himself through His own momentary creation. Through our eyes, He desires to watch Himself.

On page 294 of Adi Granth, Guru Arjan Dev summarizes this entire philosophy in a few lines.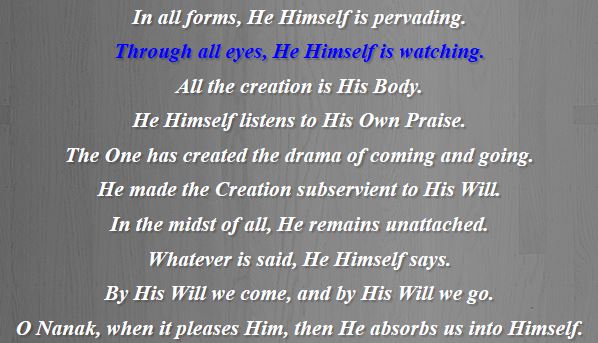 With these thoughts I leave with the photos that were created to bring about the intensity in her eyes.