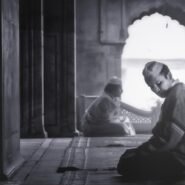 Discipline and Letting Go
At Jama Masjid in Old Delhi, photographing a man absorbed in Namaz (muslim prayer), my thoughts meandered to the complementary practice of "discipline" and "letting go", as taught by Baba Sheikh Farid of Shakarganj.
Sheikh Farid (1175 – 1265) was a Sufi saint born at Kothiwal in Multan (Pakistan). He became a disciple of Khwaja Kutubdin Bakhtiar Kaki of Multan. Later in his life, he shifted to Pak Pattan (Shakarganj) in West Punjab (Pakistan). Baba Farid's sayings are so full of love that 116 of his hymns were reflected in Adi Granth, spiritual scripture of Sikhs, by Guru Arjan Dev, the fifth Guru.
"Discipline" and "letting go": In hymn 119 on page 1384 of Adi Granth, Baba Farid reflects on importance of discipline. Though essence of the hymn is for a spiritual seeker but I also read the message as importance of incorporating discipline in any aspect of life. Studies, career, passion, spirituality. The first step is always – discipline.
 Were my feet become tired, I will walk on my head, if I can meet my Beloved. ||119||

Interestingly in the following hymn 120, he stresses on the importance of letting go. Once any aspect of life is mastered, there is no need for discipline to be maintained as the nectar has to be allowed to flow from within. Practically, I have seen the amount of effort it takes me to develop any aspect of my life but then reaching the zenith, I find the practice of letting go becomes the essence of my creativity. This too is the essence in spirituality.
 What harm have your head and feet done to you? See your Beloved within yourself. ||120||