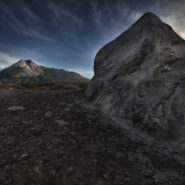 Absurdity fuels creativity
In this world that is boxed in the path of replicating the actions of the masses, to look elsewhere is generally perceived as being 'absurd'. However, it is in this absurdity of approaching a situation from an alternate angle where lies the essence of creativity!
In the caldera of Mount Merapi, I noticed the excitement of other visitors who were all thoughtlessly aiming their camera, directly towards the volcano. To my mind, this mentality to look into the face of a subject is an example of the thoughtless 'herd' mentality, the 'absurd'. I therefore looked elsewhere! Not focussing on the Merapi, I patiently searched for ancillary subjects in the environment that could be made as the foreground to lead the viewers attention towards the volcano. It is in this process of leading to the subject from the least expected viewpoint that the mind interestingly turns the secondary into the primary!
On the other hand, the 'absurd' act of not looking in the direction where the masses are attuned but to explore the peripheral environment  that in this situation became the essence of creativity! The 'WOW' moments don't necessarily lie within the subject but in the backyard, the least of all the expected places.
Baba Bullhe Shah, the famous Sufi poet says about the creative process in the realm of spirituality,
Ulti Ganga Bahayo Re Sadho, Tab Har Darshan Paye
O Seeker, make the Ganges flow backwards, and you shall gain the vision of the subject!

Mount Merapi is the most active volcano in Indonesia with a history of regular eruption since 1548. It last erupted on 25 October 2010, causing a large scale devastation for kilometers around it. It is located 28 kilometers north of Yogyakarta and thousands of people live in villages very close to the volcano.