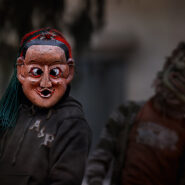 Spontaneity
Spontaneity is the essence of creativity. One needs to go beyond the controlling nature of mind, drop inhibitions, be free. In this childlike state, we become a mystic.
Here I was at the Namgyal Lhatse Monastery in Tawang (Arunachal Pradesh, India), and the weather with constant raining, was clearly not in my favor. Having traveled for three days, I had no choice but to accept the will of God. I was sitting outside the monastery, lost in my thoughts, trying to understand the greatness of the structure of life, which was only leading me to understand that there is no structure in it!
Hold that thought right there……
From nowhere, emerged these masked boys, to perform a buddhist spiritual dance. The weather was bad, it was raining and being late in the evening, the light was already low, and reducing rapidly!
No time to contemplate. Spontaneously, I dialed the camera to appropriate settings, took out a radio triggered flash and jumped right in the midst of these masked dancers. They didn't object and neither did I think any further. No inhibitions, no control.
Deep within, it seemed I was dancing to their tune.
Click first photo below and scroll to view entire series in slide show.