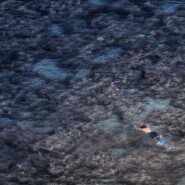 Snorkeling in Hawaii
I am basically a mountain lover. Water, swimming, snorkeling, etc doesn't excite me. However I have often imagined and appreciated the experience of a person snorkeling in the crystal clear reefs. While in Hawaii. I had an opportunity to be standing at a very high vantage point, looking down on the reef and the snorkelers meandering above them. Here are two pictures from the brief stop at this vantage point where I was not only able to capture the isolation of the snorkeler but also the crystal clear waters of Hawaii, with clearly visible reef.
Click first photo below and scroll to view entire series in slide show.