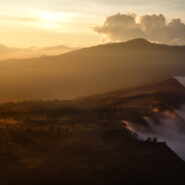 New dawn
Dark night
followed by a new dawn
We strive for happiness till eternity but even with our best efforts, cannot escape frustration. In the night of life, demons of doubt find a home.
Swooping down and perching momentarily on the branches, Sparrows find their new flight path.
It really doesn't matter how dark the night may be, it will be followed by a new dawn.
Today follows yesterday, but today need not be determined by yesterday. I see today as my chance to see life in a new light!
This series is of sunrise at Mount Bromo in Indonesia.
Click first photo below and scroll to view entire series in slide show.