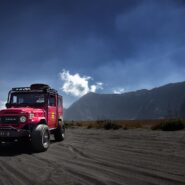 Mount Bromo in Jeep
The Caldera of Mount Bromo is a constant reminder that beauty in nature is not without its other. In this volcanic region lie the stories of death and regeneration, tranquility and disaster. For years, the Tengger Hindu people of Indonesia have lived in the fringe of this volcanic mountain. In fear of eruption and also it's acceptance in providing a living from the fertility created by volcanic ash. Today traditions are changing rapidly. Some Tengger people now make a living by offering jeep services inside the volcanic caldera for tourists to experience Mount Bromo with modernity.
At the volcanic caldera of Mount Bromo, the jeeps were lined up. We hired one to take us around.
Click first photo below and scroll to view series in slide show.