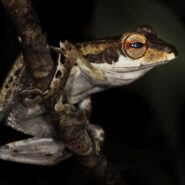 Frog salvation
On a dark moonless night, the perfect stillness of the Borneo Forest was being interrupted by the croaks of the aquatic frogs. As we walked through the swamp, our untrained ears were trying hard to locate the direction of the echoes.

We finally spotted them, an army of frogs in all colors, shapes and sizes!
My thoughts meandered to Kabir, who beautifully ridicules the religious belief of bathing at holy places to absolve one's sins. If this was the path, then frogs should be naturally enlightened!
With filth within heart,
one bathes at holy places,
hoping to absolve sin.
If such was the path to salvation,

then what about the frog which lives in water?
Kabir in Guru Granth Sahib, Page 484