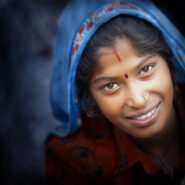 Don't rush – Roadside beauties
Don't rush. Don't search. It lies in front of you.
When spring arrives and snow melts, nature reveals on it's own.
The creative process is dependent on establishing a link between the artist and the subject. Once you have a strong feeling to capture a subject, it is important not to be rushed. The simple act of being close, observing them subtly, is enough to transmit the intentional energy from the artist to the subject. Your presence will create a bond and then in a matter of time there is bound to be a response. The essence of subjects smile is the approval, the "right to advance"!
It's then that the camera should be lifted.
At Anandpur Sahib, during the Hola Mohalla, the subtle beauty of the poor street vendors caught my attention. To common man's eye they are not worthy to be noticed. By not being rushed, not searching, beauties like these can be found sitting in every nook and corner.
We just need to melt the snow of rush and the creation is awaiting for the partnership.
Click first photo below and scroll to view entire series in slide show.