A voyage – A warrior's epic crossing
My article "A voyage – A warrior's epic crossing" has featured in January 2014 issue of Asian Geographic. Unfortunately, the editor has truncated the story, probably to fit in a centre-fold page. The full length story has earlier featured on my Blog titled "Thirty years – In search of General Zorawar Singh (1786 – 1841)". Click embedded link at the bottom of this page to also access the full length story.
Pages of my article in Asian Geographic magazine can be viewed by clicking on images below. For ease of reading, I have also provided below the text in typed format.


Zorawar Singh (1786-1841), born at Kahlur, then part of Punjab, India, rose to become a general in Maharajah Ranjit Singh's Sikh kingdom. From 1834 till his death, he led military expeditions to expand the Sikh kingdom to Ladakh, Baltistan and Tibet. The 4,000 kilometers he covered on foot with his soldiers, crossing the high Himalayan mountain passes, is a one-of-a-kind achievement in the annals of world military history.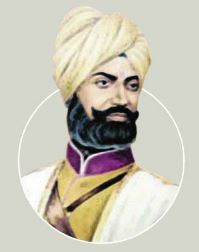 In 1834, Zorawar started from Jammu and entered Ladakh, crossing the Lanvila Pass at 4,420 metres. He captured Leh and built forts in this region. By October 1835, Zorawar had returned to Kishtwar, but on hearing reports of rebellion, he undertook an arduous journey via the 5,273-metre Umasila Pass to reach Leh via Zanskar in 10 days.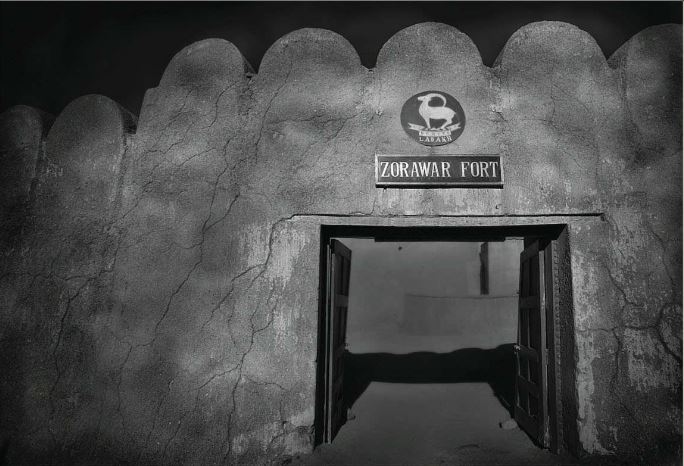 Image : The fort of Zorawar Singh at Leh, Ladakh
Zorawar's expedition to Baltistan, in the Karakoram Range, took place in 1840. It wasn't long before he had captured the mountainous territory from the forces of Ahmed Shah Durrani of Afghanistan. Thereafter, Zorawar returned to Leh via Nubra Valley, a high altitude cold desert located at 3,048 metres.
In 1841, he returned his attention to the roof of the world, leading him to Western Tibet. Crossing Pangong Tso Lake at 4,359 metres, he travelled via the Guge Kingdom, along Tholing and Purang to Mount Kailash and then on to Mansarovar.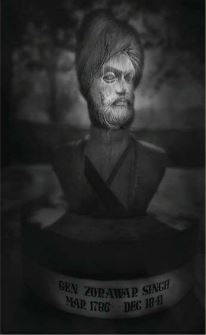 Image : In honor of a great warrior, the statue of Zorawar Singh stands in the Zorawar Fort
At the Purang Valey, separated from Mansarovar by the Gurla Mandhata Range, his forces climbed the Gurla Pass and reached Dogpacha. Here, they were caught totally off-guard by Tibetan forces. A fierce hand-to-hand battle resulted in victory for Zorawar, who captured the Tibetan Army's "colours" flag, which today remains in the custody of the Indian Army.
After a detour to Mount Kailash and Mansarovar, Zorawar's army turned south towards Taklakot, where a battle was fought with Tibetan forces at the high altitude Mayum Pass (5,182 metres). Over just three months, a huge area of Tibetan territory was captured by General Singh.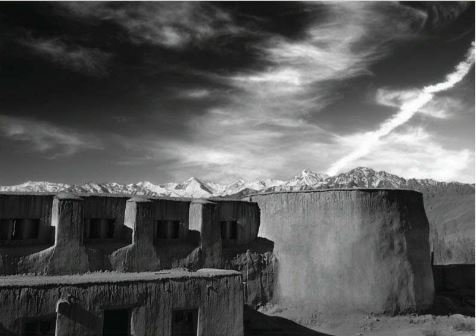 Image : Zorawar Singh built forts in the region of Ladakh after capturing Leh
By then, winter was approaching. The general decided to move to Tirthapuri and prepare for the offenses in the coming summer months. He had sealed the Mayum Pass before winter, but made the strategic mistake of not taking into account that forces from Lhasa could ambush him via the Matsang Pass, south of the Mayum Pass. In the peak winter months, Tibetan forces attacked through the Matsang Pass and again caught Zorawar off-guard. This time, the result was a high altitude battle during one of the toughest winters his men had experienced. Suffering from frostbite, many Zorawar's soldiers perished due to insufficient clothing.
On December 12, 1841, during a fight at Taklakot, Zorawar took a bullet to his left shoulder, eventually leading to his demise. General Singh's severed head was subsequently caried to Lhasa and placed for public viewing.

Image : Zorawar Singh's pistol lies in Sukhbinder Singh's provate collection in London
Many of Zorawar's soldiers crossed back into British India, but only 242 reached Askot in Kumaon. Tibetans recognised the valour of General Singh by building a cenotaph at Taklakot. Even today, Tibetans call it Singh Ba Chorten, or the "Cenotaph of the Singh Warrior", a man who marched the high altitude passes with the selfless motive of expanding the kingdom of Maharajah Ranjit Singh.
Read full length story from my earlier Blog that has been adapted in this Asian Geographic feature. Click link to access : Thirty years – In search of General Zorawar Singh (1786 – 1841)