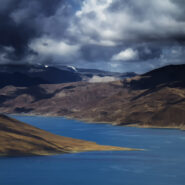 Yamdrok Tso lake, Tibet
Yamdrok-tso (Yamdrok Lake) is located about 110 km southwest of Lhasa in Tibet at a height of 14,750 feet. The lake has a distinct azure blue color, which accentuates due to reflection of the sky. It is 638 sq. km in size, extending 130 km from east to west and 70 km from north to south.
Click first photo below and scroll to view entire series in slide show.