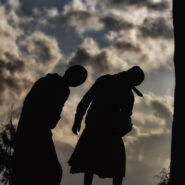 Why fight it?
Why should one fight a challenging situation? Rather working with it, one can capitalize to an advantage.
At Tawang Monastery, watching a group of Monks dance, photographically it created a challenging situation. The camera was directly facing the setting sun, creating dark silhouettes.
So I decided not to fight but make the situation work for me. Dropping the exposure compensation on the camera, way down! Minus two to be precise, I was able to create this series of "Dancing Monks in Silhouette".