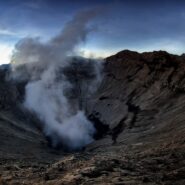 Walking on the rim of an active volcano!
One third of the world's active volcanoes lie in Indonesia. One such active volcano, a three hour drive from Surabaya in East Java, is Mount Bromo (Javanese for Brahma, the Hindu god of Creation / fire). Mount Bromo is actually a fuming crater lying within a much larger crater (caldera). Caldera is generally referred to a crater with a diameter extending over a mile. A caldera is formed when a large amount of lava erupts rapidly, immediately emptying the underlying magma chamber. When this happens, the surface of the land collapses into the emptied magma chamber and creates a large crater. Mount Bromo lies inside a caldera, and hence is a crater within a crater.
At 5:30 AM, our family was the only one scaling the fuming Mount Bromo to stand on the crater rim and experience the view of the large tunnel in the earth from where rise a continuous sulfurous stream of clouds. Holding two DSLR camera bodies, a tripod and a few lenses, was clearly a draining way to get to the top.
At the rim I photographed the hole in the earth from where the volcano was spitting the gases. I recommended to click the first picture in this series to view in large format the view of the crater from the rim.
It would take about two hours of dangerous walk along the thin rim of the volcano to circle it, but with the gases causing an irritation and the risk being high, we decided to experience the view from one place and then descend.
As we walked down, some people were on the ascent. I looked around and saw this opportunity of making a series of pictures with people on the rim of Mount Bromo.
Other than this series on Mount Bromo, I will be posting many more and I assure you these will be worth following. So watch this space. If you want to receive updates of my writings on your email, you may want to consider joining my blog mailing list at link here. Click link below, fill your address in the section "Subscribe to my Blog", fill the code that will be displayed in a pop up screen to confirm this is a human action and finally look for the email in your account to click and your subscription will be activated.
Click first photo below and scroll to view entire series in slide show.