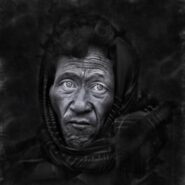 Waiting for Godot
So often we come across people who seem to be living a life of 'nothing'. Observing them, I have often wondered, if they are the victims of destiny or circumstances? Is their existence reeling under the drama of 'cause and effect', the law of karma – 'As one sows, so shall one reap'? When the entire creation seems to have a purpose then why are their lives afflicted without a design?
Recently, I revisited Samuel Beckett's famous play, 'Waiting for Godot' which is centered around the concepts of the sufferings of life that we all encounter as beggars in our own right; our futile attempts to pass time; and our incessant wait for Godot which could be interpreted as……….(your guess!).

The looks of 'nothingness' on the faces of these people is a reminder that in our own ways we all are 'Waiting for Godot'!