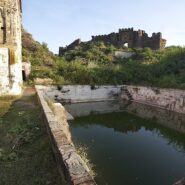 Tumult of existence
A journey across the salt range in Pakistan enabled me to reflect on the tumult of human existence, our daily battles between the realms of spiritual and existential desires!
From the abandoned remains of Choa Baba Nanak Gurdwara (left picture), where Nanak spread the message of spiritual love, as I looked towards the Rohtas Fort, it's past use as a military might represented the internal battles we daily fight. Then from the walls of Rohtas Fort, as I looked at the setting sun over Tilla Jogiyan (right picture), it represented the worldly love as it was here that Ranjha headed in a futile attempt to discard the worldly life when he was unable to unite with Heer, his existential desire!
In the spiritual realm, Nanak proclaimed;

Apney Pyarey Bin Eik Khin Reh Na Saku Bin Miley Neend Na Paae

Without my Beloved, I cannot survive an instant; without meeting Him, I cannot sleep
In the worldly realm, representing Heer's pain in not being able to unite with Ranjha, Baba Bullhe Shah proclaimed,

Jogi Merey Naal Naal, Mei Jogi Dey Naal Naal

The ascetic is with me forever; I am forever with the ascetic
In departing, I ached with pain on the reflection that such beautiful commonalities between the Sufi and Sikh traditions could have blossomed together for ages to come, but for the fatal actions of the politicians that made the society believe that they can't co-exist based on religious denominations!
Partition of Indian sub-continent forever severed our umbilical cords of commonalities.