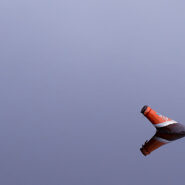 Thought catalyst!
Sometimes the act of photographing a simple object can be the catalyst to a thought!
At around 23 km from Tawang (Arunachal Pradesh – Eastern India) lies the serene Penga Teng Tso (PT Tso) lake, at a height of 12,000 feet, surrounded by snow capped mountains. This lake has a spiritual importance for the local buddhist community and therefore one would expect visitors would make an effort to maintain its cleanliness. However I was saddened to find a few whiskey and beer bottles dumped in the lake.
The pristine environment of this remote lake can be sensed from the stillness of the water, which offered me an opportunity to make the perfect reflection of the floating beer bottle. As I composed the picture of the beer bottle with its perfect reflection and nothing else in the frame, the thoughts in my mind were…
"A perfect composition is made, not when there is nothing else to add to it, but when there is nothing else to take away from it"
A bottle, it's reflection in the serene water….. there was really nothing else left to take away from the composition.
Click first photo below and scroll to view entire series in slide show.