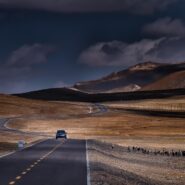 Subtle moments of creativity
In the process of expansion to excel in our day to day pursuits, we generally forget to reflect and contemplate, which is the most important ingredient for the holistic growth of individuality.
It is therefore, from time to time, I look at the pictures I have clicked and contemplate to visualize the situation in which these were created. It is this subtle linkage between the activity of photographing and that of reflecting that I find to be the most creative of the moments.
Today I happened to be reflecting on this series of landscapes shot on the Tibetan plateau.
Click first photo below and scroll to view entire series in slide show.