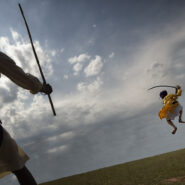 Stick & Sword
"Nihangs", the Gurus warriors, still maintain the traditional ways of the eighteenth century, not out of it's necessity of the 21st century but for their love of their past.
Even today, young boys in Punjab are found to join the existing few groups of Nihangs and dedicate themselves in the training of traditional warfare.
At Anandpur Sahib, a young boy caught in the act of jumping while wielding his sword, as the elder one enacts a teacher controlling the actions through his stick.
Click photo to view in larger format.