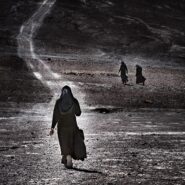 Self Sufficiency
 Self Sufficiency is an opportunity!
Sociability is the essence of humanity. However it's through self-sufficiency that one is able to connect Self with Cosmos. It does not mean that being with others is of any less importance but self-sufficiency does help overcome one's shortcomings. 
Society and self-sufficiency need to be the two stirrups of life.
These were the thoughts that crossed my mind as I picked the camera to photograph the nuns walking a barren path in the high altitude plains of Ladakh.

 Click first photo below and scroll to view series in slide show.