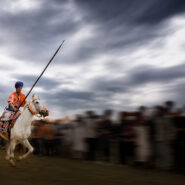 Hola Mohalla – Saddle of Self Reflection
Today, 17th March 2014 is the the day of Hola Mohalla celebration.
Holi, the Indian festival of colors becomes Hola Mohalla in Punjab. Hola being the masculine representation of Holi and Mohalla implies an organized procession.

Holi is celebrated across India by throwing colors at each other to celebrate the victory of good over evil, associate with the mythological story of Prahlad and Hirnayakashyap.  It also signifies the coming of spring season.
In Punjab the significance and meaning of this festival changes altogether. On the day of Hola Mohalla, a large scale annual fair is organized at Anandpur Sahib in Punjab on the day following the Holi festival. From the time of the 10th Guru of the Sikhs, Guru Gobind Singh, the community gets together for three consecutive days to display their martial spirit.

During the festive celebration of Hola Mohalla, which I witnessed in the year 2013, Nihangs (Sikh military order, dating back to 17th century) riding their horses as they were one with them, reminded me of Saint Kabeer's saying on self-reflection.
Resting the Consciousness on the saddle of self-reflection, leveraging the stirrups of intuition to balance and striking with the whip of love, Kabeer rides the soul to a state of liberated living.
On saddle of  self-reflection,
and stirrups of intuition, placed my feet.
grasped the reins and attached the bridle;
I rode through the skies.
so let me ride you to heaven.
If you hold back, I shall strike with whip of love.
Says Kabeer, remain detached to be the best rider.
                                                                             Adi Granth, page 329
Such simplicity of words, connecting the Self with the activity of horse riding. This is the beauty of Saint Kabeer.
The sense of liberated living could be felt in the energetic expressions of Nihangs riding their horses at high speeds, while performing acrobatics on the horse backs.
Click first photo below and scroll to view series in slide show.