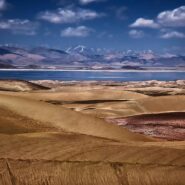 Poison lake, Tibet
Of the many lakes on the Tibetan plateau, some have a notorious image and go by the common name of "Poison Lake". These lakes have high mineral content, which does not permit any life to flourish in them.
In driving westward from Lhasa to Guge kingdom, there comes a patch of land which is full of sand dunes around one such "Poison Lake". This series of six pictures were shot around one such poison lake.
Click first photo below to view entire series in slide show.