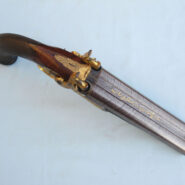 Discovery of General Zorawar Singh's pistol
Normally I only blog thoughts centered around my photography. However, for a discovery like this one, linked to one of my earlier blog posts, it is worth sharing even though it doesn't carry any photo created through my camera.
On 24th September 2013, I blogged about my personal photographic journey over thirty years, in search of General Zorawar Singh, which can be read at link below.
THIRTY YEARS IN SEARCH OF GENERAL ZORAWAR SINGH (1786 – 1841)
From the feedback and comments, I remain surprised how little people know about Maharajah Ranjit Singh and specifically about General Zorawar Singh. However I was delighted to be contacted by Sukhbinder Singh from UK, who is a private collector of arms and armours. In his collection lies a pistol of General Zorawar Singh. Visit the Youtube video in link below and at the 16.41 second mark, you will find him showing and talking about the pistol.
The inscription on the barrel of the pistol is in Persian and reads "Maharaj Kanwar Zorwar Singh Ji Sahib". Being a leader of soldiers, they referred him as "Maharaj", which is not the same as the title "Maharajah", given to the kings like "Maharajah Ranjit Singh".
VIDEO SHOWING THE PISTOL OF GENERAL ZORAWAR SINGH
I am glad Sukhbinder has added another dimension to my passionate research about the General.