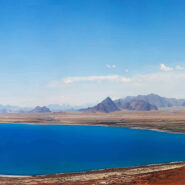 Peiku Tso, Tibet (Large Panorama)
If my body were frozen in the Himalayas
even then
my mind would not be free of disease.

Guru Nanak, page 62 of Adi Granth
For ages, Himalayas have signified asceticism. Needless to say, it is more than coincidence that certain practices are associated with a place. A visit to higher reaches of Himalayas, still reverberate with the energies that inspired generations.
However in this world of change, nothing remains static. Therefore we need to be aware if the flow of energy associated with a place moves elsewhere then it become vital to move on.

Tibet, the land of Lamas and Nomads, has served as a confluence of many faiths. Practice of Buddhism being central to its core, centuries ago it were the ascetics from India who freely travelled to these highlands, finding them conducive for spiritual enlightenment. For ages Hindus and Jains had been visiting the areas of Mount Kailash and Mansarovar lake, in quest for satisfying their minds. Guru Nanak, the first Guru of the Sikhs too travelled deeply across this land.

Post 1959 Chinese advance into Tibet, it became impossible for people to freely reach the high altitude plateau. Tibetans, themselves under threat of preservation of their culture, religion and values, started moving to the lower lands of Nepal and India. With the limitation created on the flow of spiritual energy associated with these lands, its inhabitants found it vital to move on. While embracing change, the Tibetans have created new flows of energy elsewhere but the magnetic call of the Himalayas will continue to serve as a reminder of its rich past association with being the cradle of spirituality.
On way to Ngari province in Tibet, stopping at lake Peiku Tso in Tibet, I was stunned by the expanse of this alpine lake. The lightly salted lake at 4,600 meter, is nestled between high snow capped mountains, with Mount Shishapangam (also called Gosainath), the fourteenth highest mountain standing tall at 8,000 meter on its right. In the pre-Chinese occupation, the Tibetan nomads would spend their spring and autumn months in the vicinity of this water body.
In an attempt to capture the lakes expanse in one photo, I made a large panorama. To give perspective, the nestled lake in this photo covers 300 square kilometer.
Click photo below to expand the panorama of Lake Peiku Tso.