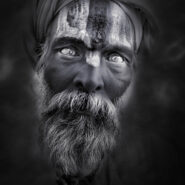 One or third eye?
    In Hindu religious tradition, the third eye is a mystical reference to an invisible eye, that helps perceive beyond reality, and can be opened through spiritual discipline. Men of religion can be seen applying colored paste on their forehead as representation of having evolved the senses of the third eye.
At Varanasi, I saw a man of religion with the symbol of third eye on his forehead, between his two visible eyes. A few steps away was a sweeper with just one eye.
Between one and three eyes, I was left wondering about the drama of life.
For one man, life is a pursuit to awaken the third eye, while for another, it's all about performance of daily chores with just one eye.
Click first photo below and scroll to view entire series in slide show.