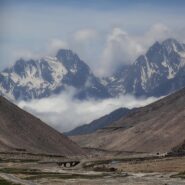 Nyalam
Nyalam, literally translated as "Gateway to Hell", is a town in Shigatse prefecture of Tibet, bordering Nepal. Till ten kilometers before Nyalam from Tibet side, at an average height of 12,300 feet above sea level, the plateau is just a flat land with huge snow clad Himalayan mountains rising above 20,000 feet in the South. Nyalam offers the navigation pass between Tibet and lowlands of Nepal.
The road descends rapidly, dropping from above 12,000 feet to below 8,500 feet in just about 15 kilometers. That's quite a drop and can easily create a nauseating feeling if traveled on the ascent. Fortunately we were descending so could enjoy entry into clouds and thereafter zero visibility. Our driving speed reduced to about 5 km/hr to not risk dropping off the cliff.
Tibetans called this place as Nyalam, the "Gateway to Hell"  because in the past, walking towards Indian  sub-continent on foot, this was the most challenging phase to navigate.
In this series, I am showing the view of the pass before Nyalam town from the Tibetan plateau. Within minutes, clouds had enveloped us, making it impossible to do any more photography.
Click first photo below and scroll to view series in slide show.