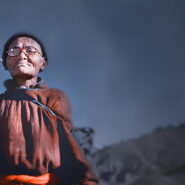 None Behind, None Ahead!
On the plateau,
Vastness of heaven and earth.
None behind,
None ahead.
Joy and sorrow within,

I, the only companion,
On the Leh – Kargil road in India, fifteen kilometers east of Fotu La pass, at a height of 11,500 feet lies the Lamayuru monastery. While driving to Lamyuru, at a distance I saw a solitary old monk, twirling his prayer wheel, peacefully taking strides to what appeared to be 'nowhere'!
We arrive and depart alone!

The only thing we can do is to become a detached spectator of life, as it drives us on this highway of void.