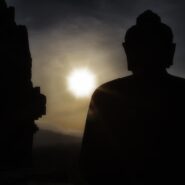 Nanak meets Buddha
Borobudur Temple at Yogyakarta is a magnificent architecture from the era when Buddhism flourished in Indonesia. The three tiered temple design represents man's internal progression from worldly to blissful state of formless, as taught by Buddha.  
Kamadhatu represents engagement in worldly desires. It displays intricate stone carvings depicting lust and progressively moving towards statues of Buddha sitting in postures.
Rudhaputa represents a progressed person who has eradicated desires but is still bound by forms of life.  It displays lesser ornate statues of Buddha, more than 500 in number, in variety of sitting postures, inside inverted bell shaped stupas. The inverted bells signify reduction in desires but the windows in them show that connection with outer world still remains.
Arupadhatu represents a person liberated from worldly desires. It contains a gigantic inverted bell shaped stupa as crown of the temple. The inverted bell has no opening, implying all channels with outer world have become satisfied.
As a follower of Nanak's philosophy, while photographing the temple, my mind immediately saw a parallel in teaching of Nanak in his composition titled, Jap. He called these stages of progression as Khands.
Dharam Khand represents Karmic life of humans, involved in daily chores of existence. As are one's thoughts so become life's circumstances. The way out is in shifting minds thought patterns, which results in Grace, moving one to the next stage.
Gyan Khand represents unfurling of an understanding to anchor on formless, which happens through arousal of amazement caused by an appreciation for the vastness of creation.
Saram Khand represents emergence of humility through an effort to annihilate self identity. Intuition now starts providing glimpses of Singularity.
Karam Khand represents emergence of fruit of effort to live in oneness – HIS presence is seen within and outside.
Sach Khand represents the merger with the abode of Truth. Nothing is permanent. Even time is an illusion. Only the Supreme existence is the ultimate permanent Truth. The formless is to be found through observing and living in unison with his Will.
The sun was setting rapidly and I had to put my thoughts to rest, in order to capture the few silhouetted shots of the temple.
Click first photo below and scroll to view series in slide show.