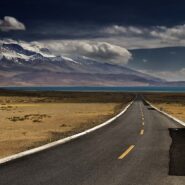 Namo Nangi
Opposites are part of the whole.
To define white, one needs to first define black.
It is therefore not a surprise that Mount Kailash in Tibet, believed to be the abode of Lord Shiva, finds it's feminine form in the nearby Mount Namo Nangi, the abode of Parvati, his wife. Both these mountains are in the vicinity of Lake Mansarovar, a holy lake at an altitude of 15,060 feet.
Tibet being a flat land at about 15,000 feet near the Mansarovar lake, here one can be easily driving at an average speed in excess of 100 km/hr, without realizing the altitude one is at. The high range peaks, rising above at an average height of 22,000 feet simply appear to be small as one is standing on a high altitude plateau.
In this series, I am sharing the beauty of the mountain Namo Nangi in Tibet, also know commonly as wife of Mount Kailash. The earlier series on Mount Kailash and Lake Mansarovar can also be accessed through provided hyperlinks.
Click first photo below and scroll to view entire series in slide show.