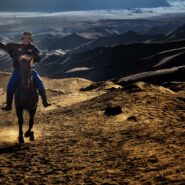 Mind Horse
Mind is a stubborn horse. It always does what it is supposed to do, leading naturally to the path of least resistance. This mind horse can however be directed on a constructive path by riding the saddle of self-reflection, holding the reins of patience and balancing on the stirrups of experience.
Observing the Tengger horsemen riding at ease on the volcanic ash of the Mount Bromo volcano, I was reminded of Kabir's profound verse on page 329 of Guru Granth Sahib.
I have grasped the reins and attached the bridle;
Abandoning everything, I now ride through the skies.
I made self-reflection my mount,
And in the stirrups of intuitive poise, I placed my feet.
Come, and let me ride you to heaven.
If you hold back, then I shall strike you with the whip of love.
Says Kabir, those who remain detached from scriptures are the best riders.