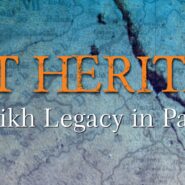 LOST HERITAGE VIDEO PRESENTATION
"LOST HERITAGE – The Sikh Legacy in Pakistan" authored by Amardeep Singh, releases in December 2015. Here is a video that shares the motivation and journey in making of this book.
A deep-rooted desire to connect with the land of our ancestors propelled me to visit Pakistan and delve into the vestiges of a community, which was impelled to move eastwards owing to the partition of the Indian sub-continent in 1947. The dream was fulfilled in 2014 when I undertook the journey to explore the Sikh legacy in West Punjab, Khyber Pakhtunkhwa and Pakistan Administered Kashmir.
In the book "LOST HERITAGE – The Sikh Legacy in Pakistan", I have chronicled my travels, providing insight into the glorious era by exploring the relinquished heritage spanning between the 15th and 21st centuries. The narrative, written in a lucid style, is interspersed with photographs of historic monuments, forts, battlegrounds, commercial and residential establishments and places of worship that bear mute witness to the heart-wrenching partition.
This illustrative exploration of arts, architecture, culture and history, discerns the erstwhile secularity of the region.
Across all communities, 'Lost Heritage: The Sikh Legacy in Pakistan' provides a strong impetus to those in search of their roots and for those interested in the bygone era.