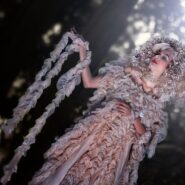 Janet Amrit in a white victorian dress
The tall thick trees and the sun peeking subtly through the branches, created the perfect drama.
She then arrived at the scene, dressed in a white victorian grown, smoothly merging into the environment.
We made a few pictures and I rushed from the scene to run some afternoon errands.
Click first photo below to view entire series in slide show.