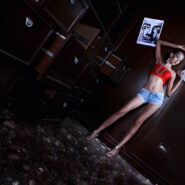 "It doesn't matter what he does, he will never amount to anything"
Albert Einstein's teacher once told Einstein's father that "It doesn't matter what he does, he will never amount to anything!"
As I partnered with Janet Amrit (Model) and Praveena Nair (Make-up artist) to create a series of photographs with this statement in the background, it made me reflect on the journey of our life.
It is indeed possible to achieve anything as long as we are passionate and remain focused! Rest is all a matter of time!
Click first photo below to view entire series in slide show.