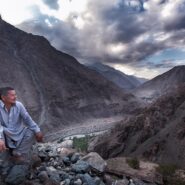 Hunderman Brok & Brolmo
A dusty, non-descript Himalayan village that once provided resting ground for travelers on the historic Silk Route between Kargil and Skardu, now lies shelled by the two warring nations, who very well know their hips are welded with common culture, language and religion but choose to live in absolute denial, scratching each other from time to time. The effects of Partition of India and Pakistan live on, with militarization and separation of people of one race and language.
At Kargil (India), I made a point to get close to the border. Just below the road, tucked strategically in the shelter of the valley, we could see the Indian military helipad. Soldiers and war machines were visibly perched on mountain tops across both sides.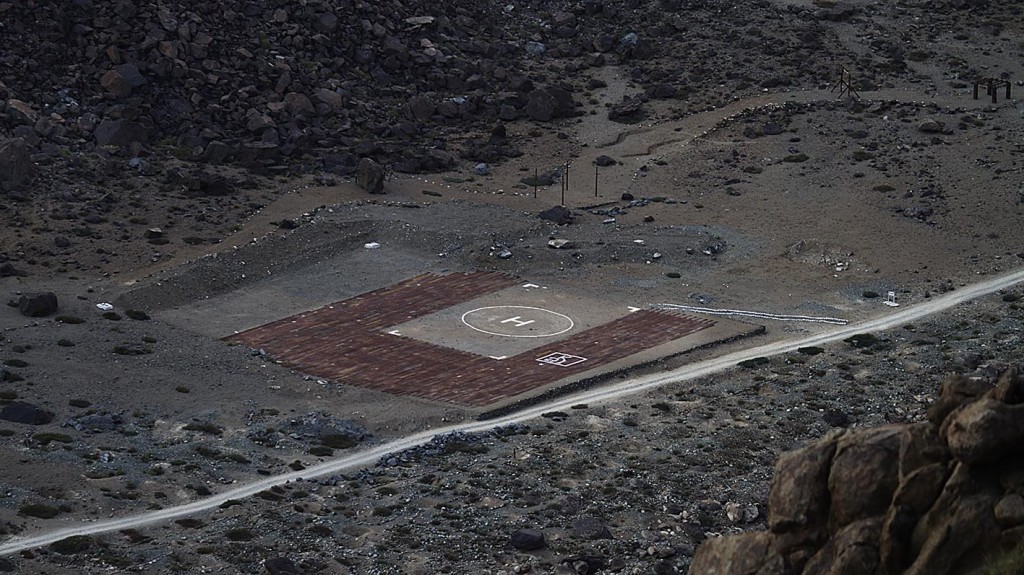 Photo :  Helipad near Hunderman Blok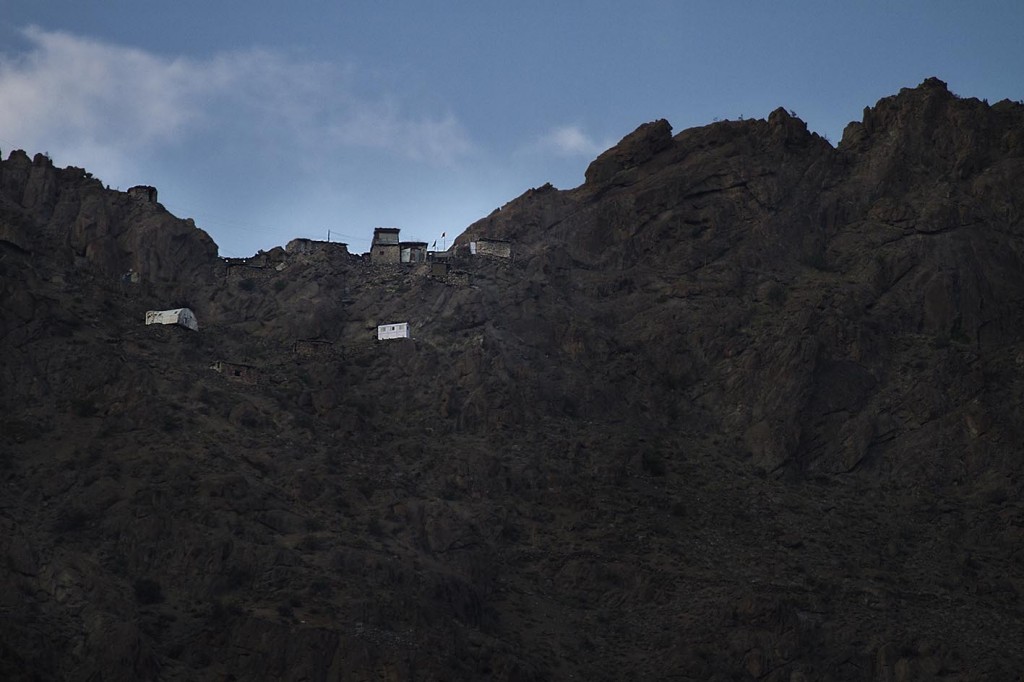 Photo :  Army pickets on top of the hills

The sun was about to set, creating a play of colors in the sky. I had a calling to stop here for a moment to appreciate the gushing sounds of Shingo river. A short distance of less than one kilometer by crows flight, I could see Brolmo, the Pakistani village. Here the cultivation terraces and village homes were perched alongside Shingo river. The waters of Shingo required no passport to cross the borders created by the two nations. From the Pakistani village, Brolmo, river Shingo's water gushes towards Hunderman Brok, the Indian village.
As I aimed my camera to capture an isolated mosque, built above Brolmo village, the engine sound of a small vehicle caught my attention. Just behind me, a Balti father – Balti is the race living in the geographically divided region of Kargil, Gilgit, Skardu and Baltistan – with his four daughters, brought his car to a halt.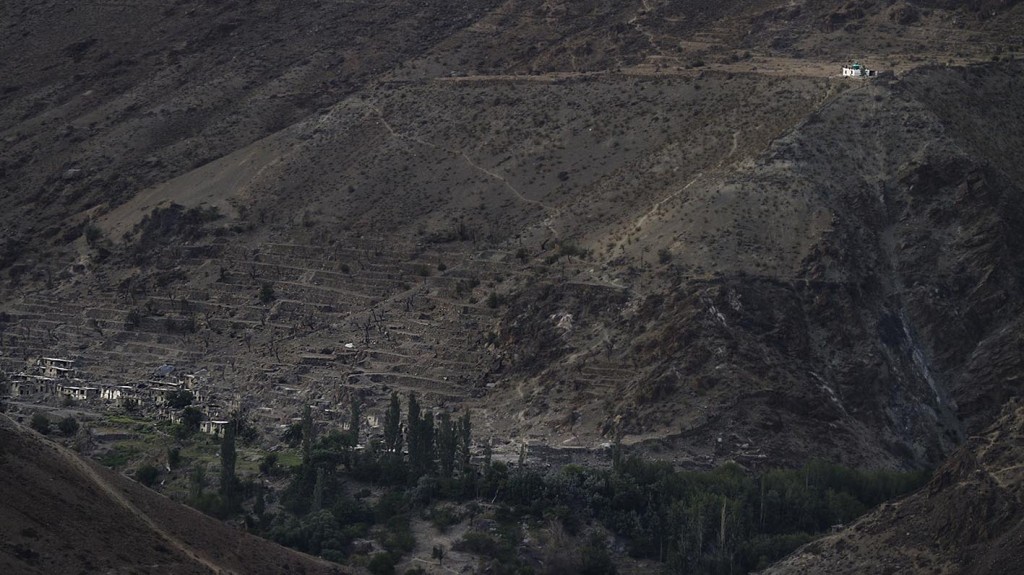 Photo :  Terraced Brolmo village with Mosque at top
"Salam", I said and he responded "Sat Sri Akal "!
Having broken the ice, this was the right opportunity to strike a conversation to get to know a bit more about the region.
Mohd. Hussain, man driving the car, was born in 1957, ten years after the partition of India in 1947. While Panjab and Kashmir regions saw the devil in man create a holocaust, the Shia Muslim dominated Balti region of Skardu and Kargil had no reason to be spilling blood. Hussain confirmed that his parents never mentioned any madness resulting in killing of innocent.
With signing of treaty of accession by the ruler of Jammu and Kashmir to join India, Kashmir saw tribesmen make an advance towards Srinagar to cleanse the region of Hindus and Sikhs. Gilgit and Kargil being far away from Srinagar, remained peaceful during this madness. With accession of Jammu and Kashmir to India, the Pakistan and Indian armies did not loose a moment to make advances, resulting in the defining line of control of 1947. At this time, the villages of Hunderman Brok and Bromlo, both came under Pakistan administration.
Mohd. Hussain recalls his childhood days, growing up in this region as a Pakistani citizen. Their home and tilling grounds were in Hunderman Brok, while he walked a few kilometers daily to Brolmo village to attend school. He pointed my attention back to the mosque over Brolmo village that I was photographing before his car caught my attention. That is "Sheikh Ali" mosque, which he used to visit as a child.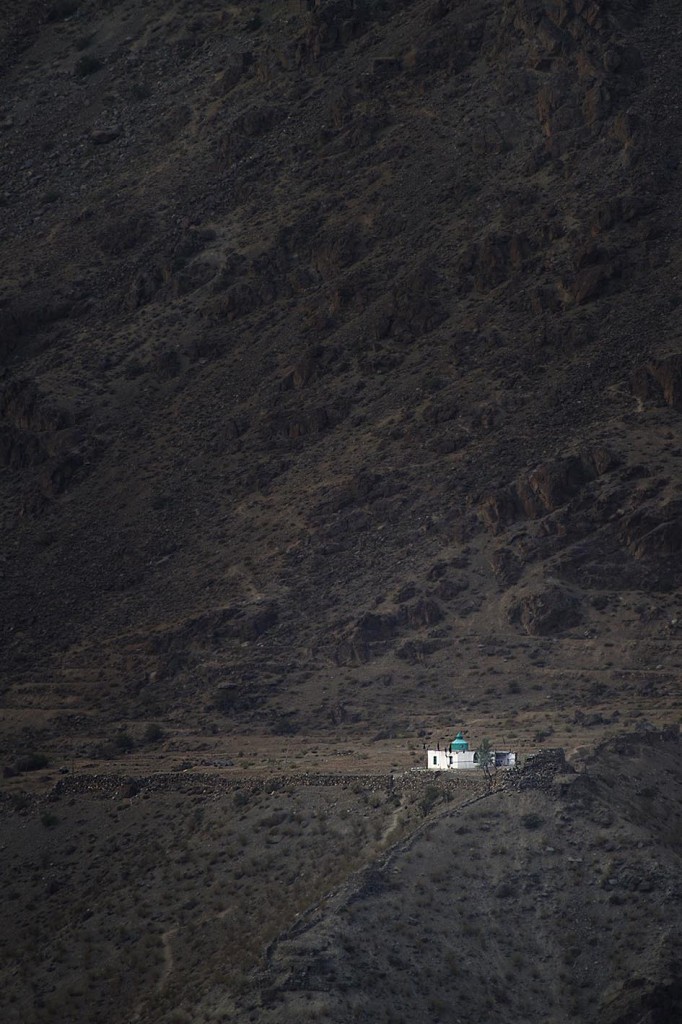 Photo :  Sheikh Ali mosque in Brolmo, Pakistan

When Hussain was 14 years of age, the 1971 Indo-Pakistan war was fought and the Indian forces made significant advance in this particular region, resulting in his community getting split across the Hunderman Brok and Brolmo. By the end of this war, Hunderman Brok was in the Indian territory and Brolmo remained in Pakistan.
Thereafter, Hussain was never able to visit his school or the "Sheikh Ali" mosque in Brolmo because his village Hunderman Brok had now shifted to the Indian side and they were now citizens of India.
Such is the irony of border dispute that the Balti people, if they have to meet their relatives across the border, they now need to travel all the way south to Amritsar in Punjab, crossing the border at Wagah, entering Lahore and then drive back into Skardu – Gilgit region in Pakistan.
In the photo below, the green patch next to the river, just below where Hussain is sitting, the area in green is village Hunderman Brok in Indian territory. Further into the distance, nestled between the mountains, is visible another green patch, which is village Brolmo, in Pakistan.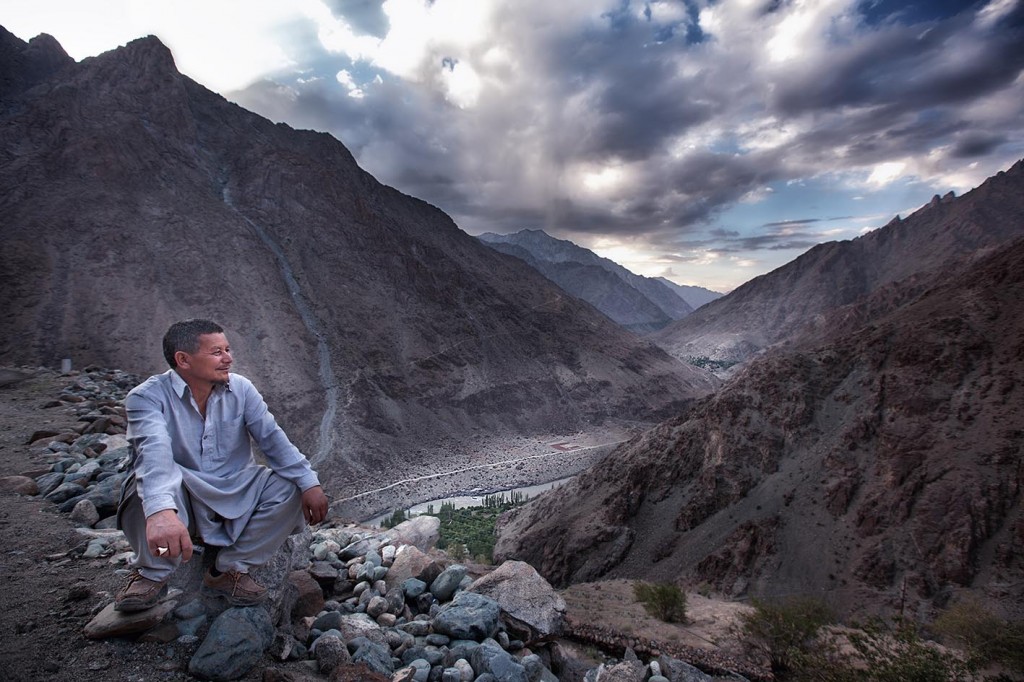 Photo :  Hussain in foreground of Hunderman Brok & Brolmo
In photo below, on the left extreme (from viewers perspective), nestled between the mountains, the green patch is where lies the Pakistani village Brolmo.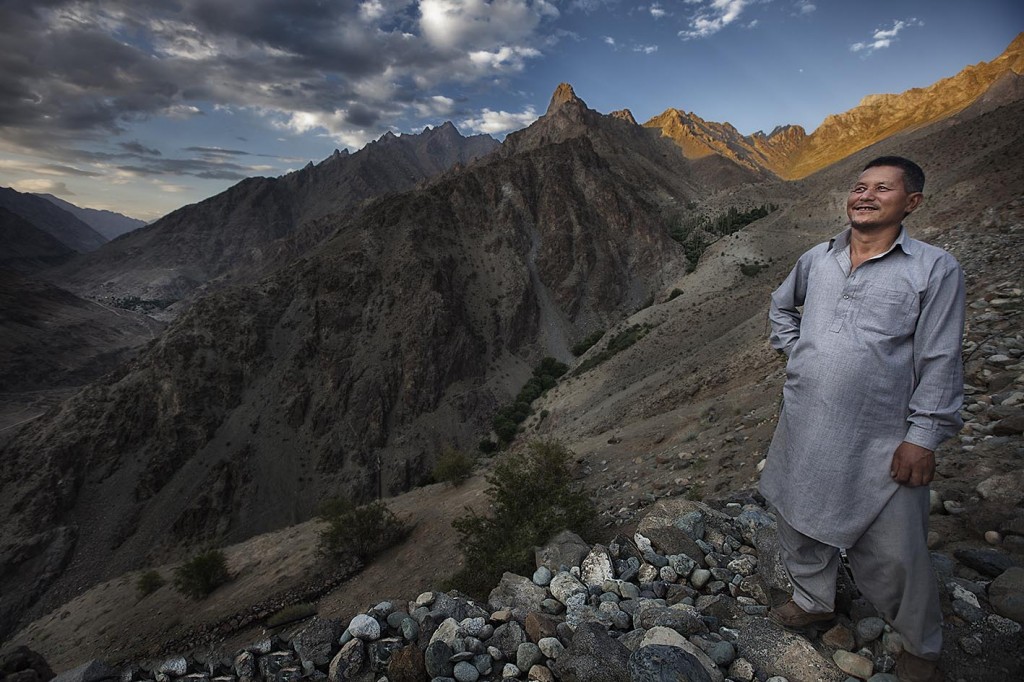 Photo :  Hussain with Brolmo in extreme left from viewers perspective

As I photographed Hussain, his daughters were kind enough to heed my request to position themselves in the foreground of the two villages. Village Hunderman Brok in Indian territory lies to the left of the photo, as the green patch next to the river. Further into the distance, nestled between the mountains, is the second green patch of the Pakistani village Brolmo.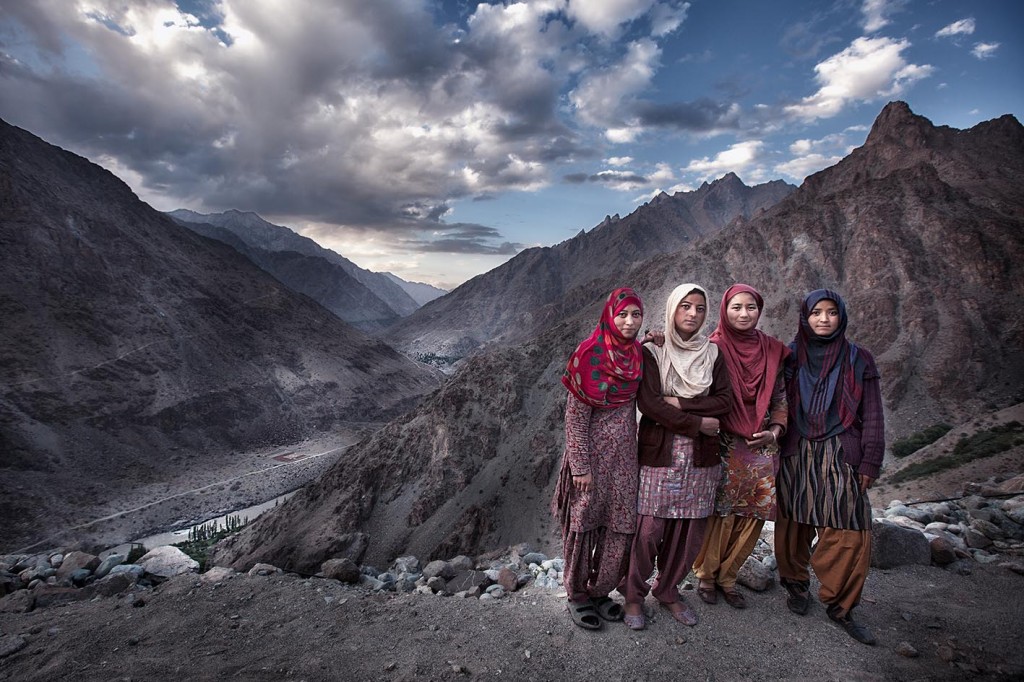 Photo :  Hussain's daughters in foreground of Hunderman Brok & Brolmo

We were loosing light at a very fast pace and I was able to get the last few photos of shelled houses in the region across both sides of the border. These looked like ghost houses. Hussain pointed to some areas in the mountains where lie bomb bunkers and he has personally taken refuge in these. To be honest, I could not spot these bunkers and that's good because bunkers should not be easily noticeable.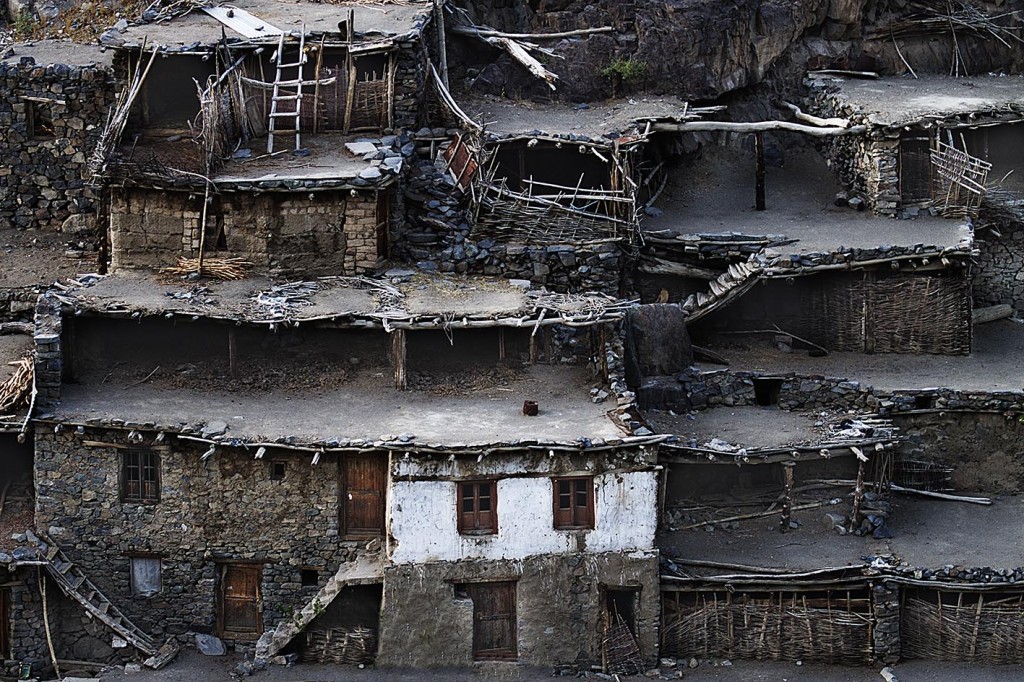 Photo :  Shelled houses in Hunderman Brok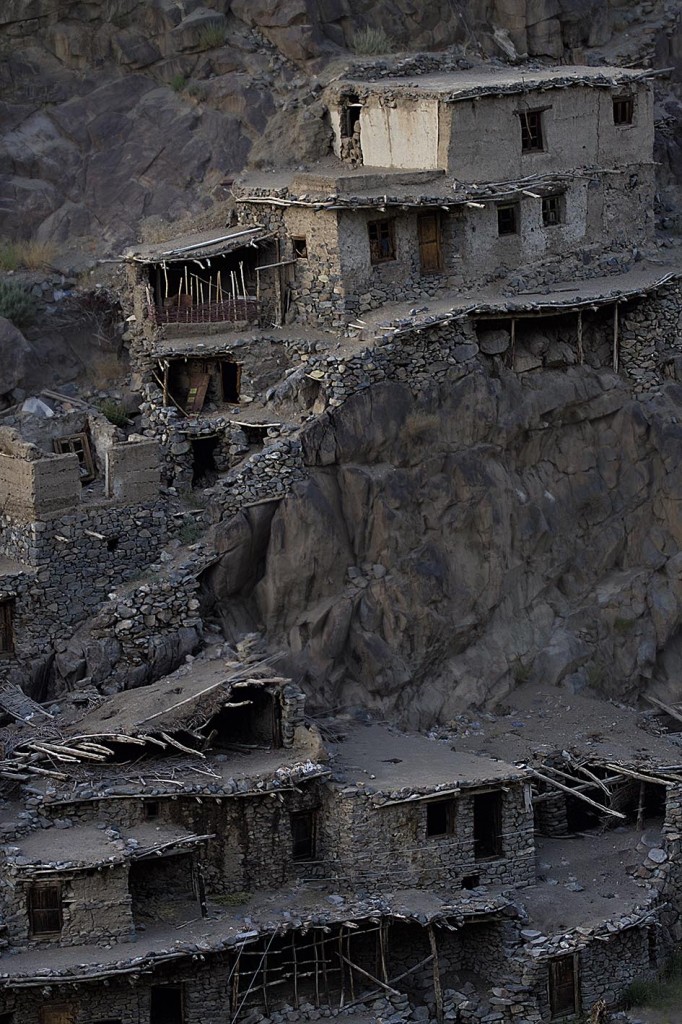 Photo :  Shelled houses in Hunderman Brok

These few revealing and touching moments with Hussain came to an end and we went our ways. I could only pray that the political madness that have created these borders, impacting lives of common men, will one day come to an end.
I have hope, for every dusk is followed by a new dawn!