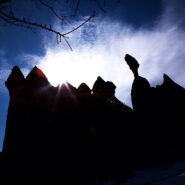 Fairy Chimney rock formations, Turkey
The fairy chimney rock formations around Göreme, in Cappadocia, Turkey are nothing less than a fragment of another planet. These surreal rocky geological formations are a result of intense volcanic activities, around 65 million years ago!
Experience the region through this series.
Click first photo below to view entire series in slide show.