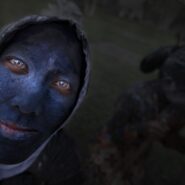 Dance of celebration
When opposites collide, it results in conflict and hostility. In their embrace, there is love and friendship.

The law of creation is nothing else but a dance of celebration!
Mount Merapi, is the most active volcano in Indonesia, with a history of regular eruption since 1548. It last erupted on 25 October 2010, causing a large scale devastation for kilometers around it. It is located at 28 kilometers north of Yogyakarta and thousands of people live in villages very close to the mountain.
Mankind and nature can be seen in a state of conflict and embrace. Time and again, the energy from volcanic eruptions continues to destroy the region. When the going gets tough, the villagers abandon their homes for shelters far away. However it is the eruption that also provides fertility as well as minerals, creating a wealth of earning opportunity for the villagers. Like a magnet, when the eruption subsides, the villagers return to the region.
Living at the edge, they embrace the volcano.
At Boko temple, I witnessed the dance of celebration, with the villagers having painted their face with volcanic ash. It is their way of paying respect to the volcano and embracing it in totality, for it's destructive and generative powers.
Below is the photos series of the Boko Temple dancers, living at the edge of the volcano.