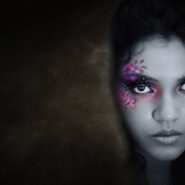 Charmaine (Head Shots)
Praveena Nair (Make-up artist) recently collaborated with me in a photo shoot with Charmaine (Model).
Praveena Nair is just starting out as a make-up artist and I feel she did a good job in face painting. To help her create a portfolio, I concentrated on making a few close up head shots of Charmaine (model).
Click first photo below to view entire series in slide show.