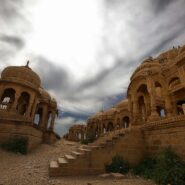 Why make me live in Cenotaphs?
Detached, I am living dead.
In death, why do you make me live in Cenotaphs?
Bada Bagh in Jaisalmer is a complex, about 6 km in the outskirts. The city of Jaisalmer is in the Indian Thar desert, deprived of water. In 17th century, the king undertook a project to build a water tank, using creative water storage techniques, turning this to a green area. On his death, his son Lunkaran, built a Cenotaph here, in memory of his father. Following this, with each passing member of the family, Cenotaphs were added till the Independence of India in 1947.
History now stands besides the force of modern development, that is transforming the landscape with rapidly increasing number of power generating wind mills being erected all over the area.
I was left wondering if the grandeur of these Cenotaphs will survive the winds of change?
Click first photo below and scroll to view entire series in slide show.