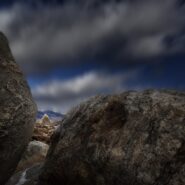 Bum La pass
About 37 km ahead of  Tawang (Arunachal Pradesh), at the height of 16,500 feet lies the Bum La Pass, where runs the historic McMahon line, defining the line of actual control between India and China.
Bum La is a very remote pass where only a few travelers reach in the summer months. In winters, it receives 36 inches of snow, at an average temperature of -24 degree centigrade.
It was from the Bum La pass that Dalai Lama, on having left Tibet because of China's occupation, entered India in the year 1957.
During the 1962 Indo-China war, the Chinese army marched into the Indian territory, reaching Tawang, from this very pass.
In December 2011, I drove from Tawang to Bum La, crossing many high altitude lakes, some of them frozen in the summer months. There was a feeling of achievement on reaching the pass but from photography perspective, it threw a unique challenge. There is a stark difference in the landscape across the two countries at the Bum La pass. On the Indian side, it is a 6,500 feet ascend from Tawang, while on the Chinese side, it is the flat Tibetan plateau. So on the McMahon line, the pass is the flat Tibetan plateau, with no interesting landscape to capture.
So I turned my camera to the rocks and boulders as there was no way I was going to return without having captured the essence of this terrain.
As I walked freely on the pass with my camera, a sign stone with Chinese writing, reminded me that I was now deep inside the Chinese territory. Hurriedly I rushed across the invisible McMahon line, into the safety of the Indian side.
This series showcases the lakes on the route to Bum La, the boulders at the pass and the sign stone with Chinese writing, that reminded me to rush back on the Indian side.

Click first photo below and scroll to view series in slide show.