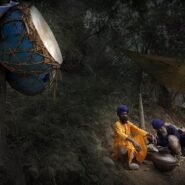 Bhang Grinders
Bhang, an intoxicating beverage prepared from the leaves of cannabis plant, has a  history of use across the Indian subcontinent. In Punjab, the Nihangs (military order from the time of Guru Gobind Singh) use it freely. They call it Sukha, the peace-giver. Nihangs have been using Sukha since 17th century, when they had to fight against the Afghan invaders to protect the Indian sub-continent.
Philosophically, Sikhs are discouraged from use of intoxicants. Unfortunately the use of liquor has become wide spread across Punjab of today but smoking (tobacco, ganja, charas, etc) continues to be a taboo.
A hymn from Adi Granth, the spiritual scripture of the Sikhs, encourages to refrain  from use of intoxicants.
Mortals, who refrain from intoxicants, obtain truthfulness in His Court.
                                                                                       Adi Granth, page 15
Drugs like Morphine and Opium are known for their pain relieving properties and are commonly used in modern warfare. One can therefore see a rationalization in the use of Sukha by Nihangs, as a pain reliever, giving them the vigor to remain steadfast on the battleground. However, with its active use in these days of peace, one is left wondering about the duality between philosophical ideals and the reality on the grounds. During Hola Mohalla festival at Anandpur Sahib in Punjab, Nihangs make Sukha available to anyone.
At the festival I photographed the BHANG GRINDERS, Nihangs in the act of Grinding the Cannabis.
Click first photo below and scroll to view series in slide show.