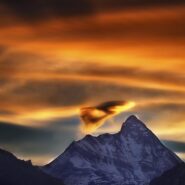 Empty Canvas, Artist's Fear!
 An empty Canvas,
An artist's fear!
Ask an artist to describe the feeling, as one looks into an empty canvas, not knowing what to create.
God, the supreme artist, has been forever creating beauty on the canvas of creation.
So what is his fear?
I believe, as an artist, God too resides in the domain of fear.
The difference being that he is not afraid of constantly painting beauty on the empty canvas of creation, but on the emptiness of the people who are not able to notice his work!
Nanda Devi peak, at 24,390 feet, is the second highest peak in India. I am glad I woke up early, staring into the peak, to notice a canopy of dragon shaped cloud forming over it.
Click first photo below and scroll to view series in slide show.