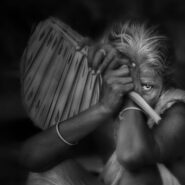 Ashamed
Ashamed, she said "How can I show my face"?
All my life I was looking forward to the day of my death.
But now having killed my desires, what does the world have to say!
I photographed this old lady outside Mother Teresa's home for the homeless, in Calcutta. While no words were exchanged between us but the momentary look she gave, had the depth beyond words.