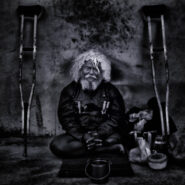 Adaptability
Unevenness of horizon is embraced by sky with full conformity.
In the back alleys of Pushkar in Rajasthan (India), I saw a crippled man sitting between his stirrups. He seemed content, enjoying the song beamed from a very old radio, his only valuable material possession. While he had a beggars bowl in front of him but he was not soliciting for alms.
There was something different about him!
The act of looking beyond the camera and trying to connect with the creation is what I find most stimulating. I use the camera as my stirrup to help me move towards the act of "seeing beyond seeing"! While I could see a strong composition but rather pick my camera, I squatted next to him to strike a conversation. His fluency in English was an indication that he had a different past.
He hailed from Andhra Pradesh and has been living in Pushkar for the last 15 years. He was an employee of a large organization in his home state. Life seemed to be on the right track till the day he met with a road accident, loosing one of his legs. Insurance claims provided him with a paltry sum of USD 2,500. Life threw another challenge and soon he lost his wife. Having got his only daughter married, he embarked on a soul searching journey, which got him to Pushkar. It's here that he learned to accept life, embracing it in totality, like the sky always conforms with the horizon. The horizon may have clouds, trees or buildings but the sky will always adapt.
His wisdom was more than mere words.
Look at it practically. If life makes one a leader, one must adapt his vision to get the group to confirm with the broader vision of the organization,
Adaptability is the essence of life.
Click photo below to view in larger size.