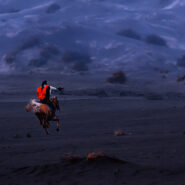 A horse in the Air
Catching the moment!
A Tengger (ethnic Indonesian Hindu tribe living around Mount Bromo) horseman was speeding on the volcanic ash in the caldera surrounding Mount Bromo volcano and I was fortunate to capture this shot right when the horse had all the four legs in the mid air.
Click photo below to view in larger size.